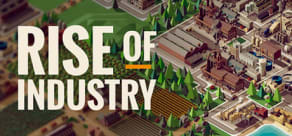 Rise of Industry
About the game
Rise of Industry is a strategic tycoon game that puts you in the shoes of an early 20th-century industrialist. Build and manage your growing empire in a living, breathing, and procedurally generated world that is constantly evolving and adapting to your playstyle.
As a budding entrepreneur, you will build factories, construct efficient transport lines, move raw materials, produce finished goods, and arrange trade with the world's developing cities, providing them with the resources they need to flourish - for they grow and prosper, so Do you
Designed with an eye towards both accessibility and depth, Rise of Industry has enough strategic complexity and replayability to satisfy the most experienced fans of the genre, while its simple-to-understand mechanics ensure that new players will love it as well.
Highlights
Experience tailored for every player - Specialize in just trading, production, gathering or any combination and research your way to bigger and better things.
Use PR & Marketing to gain favor (or repair damage) with your business partners.
Choose from over 100 individual products and manage the manufacturing process from harvesting raw materials all the way to delivering the end product to local stores & townspeople
Build and manage a solid transportation network to enable the efficient transfer of goods via plentiful trucks, speedy trains and high capacity airships.
Be prepared for fierce competition - Advanced town and city A.I., make for an intelligent and changing game world so you will not be the only one looking for the best deal.
Town personalities - adapt to a suitable approach for each town or face their economic backlash.
Huge, procedurally generated maps mean you'll always have room to expand your empire into whether in testing scenarios or sandbox mode where imagination is your only limit.
Be quick to adapt to the current business climate with contracts, random events and quests keeping you on your toes and cash flowing in.
Go green or go home: pollution, disease and other industrial by-products will eventually await the non-conscientious tycoon.
Ever-changing biomes will present different environmental challenges as you make the most out of the map - Lose potential oil reserves the polluted tundra melts into fields or fertile grassland wilts and dies into arid desert.
System Requirements
Minimum
OS:

Windows (64 bit) 7 / 8 / 8.1 / 10

Storage:

8 GB

Processor:

i3 4th generation / i5 2nd generation / A6 series

Memory:

4 GB RAM

Graphics:

nVIDIA GeForce GTX 260, 512 MB / ATI Radeon HD 5670, 512 MB

DirectX:

11
Recommended
OS:

Windows (64 bit) 7 / 8 / 8.1 / 10

Storage:

8 GB

Processor:

i3 5th generation / i5 3rd generation / FX4170

Memory:

8 GB RAM

Graphics:

AMD Radeon 8000 series / NVidia GTX 660

DirectX:

11
Minimum
OS:

Ubuntu 16.04.3 LTS 64

Storage:

1 GB

Processor:

1024x768

Memory:

4 GB

Graphics:

nVIDIA GeForce GTX 260, 512 MB / ATI Radeon HD 5670.
Recommended
OS:

Ubuntu 16.04.3 LTS [64 bit]

Storage:

1 GB

Processor:

Intel Core i5-3470 / 3.20GHz / AMD FX-6300 / 3.5Ghz

Memory:

6 GB

Graphics:

nVIDIA GeForce GTX 660, 2 GB / AMD Radeon HD 7870 [2 GB]
Minimum
OS:

OSX 10.14 Mojave (64-bit)

Processor:

Intel Core 2 Duo, 3.0GHz or AMD Athlon 64 X2 6400+, 3.2GHz

Memory:

4 GB de RAM

Graphics:

nVIDIA GeForce GTX 260, 512 MB or ATI Radeon HD 5670, 512 MB (Does not support Intel Integrated Graphics Cards)
Recommended
OS:

OSX 10.14 Mojave (64-bit)

Storage:

1 GB

Processor:

Intel Core i5-3470, 3.20GHz or AMD FX-6300, 3.5Ghz

Memory:

6 GB

Graphics:

nVIDIA GeForce GTX 660, 2 GB or AMD Radeon HD 7870, 2 GB