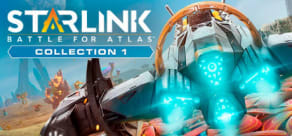 DLC
Starlink - Collection Pack 1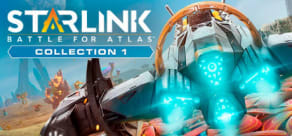 DLC
Starlink - Collection Pack 1
About the game
Gain the advantage in your battle with the Forgotten Legion with Starlink - Collection Pack 1 the 1st collection of pilots, starships, and weapons. Mix and match your modular components to create unique and devastating new combos.
Highlights
Maximize your team's potential with the complete first wave of the Starlink fleet. This pack includes:
1 Digital Nadir Starship Pack;
1 Digital Eli Arborwood Pilot Pack;
1 Digital Kharl Zeon Pilot Pack;
1 Digital Hailstorm Weapon Pack.
System Requirements
Minimum
OS:

Windows 7/8/10 (64 bit only) [1920x1080, 30 FPS]

Storage:

2GB

Processor:

Intel Core i5-2500K 3.3 GHz, AMD FX-6350 3.9 GHz

Memory:

8GB

Graphics:

NVIDIA GeForce GTX 660 or AMD Radeon HD 7850

DirectX:

11
Recommended
OS:

Windows 7/8/10 (64 bit only) [1920x1080, 60 FPS]

Storage:

4GB

Processor:

Intel Core i5-4590 3.3 GHz, AMD FX-8350 4.0 GHz

Memory:

8GB (Dual-channel setup)

Graphics:

NVIDIA GeForce GTX 970 or AMD Radeon R9 290X

DirectX:

11
Additional notes:
Recommended System Requirements for 2560x1440 (2K), 60 FPS
CPU: Intel Core i7-4790 3.6 GHz, AMD Ryzen5 1600 3.2 GHz
GPU: NVIDIA GeForce GTX 1070 or AMD RX Vega56
Video memory: 8GB
RAM: 16GB
OS: Windows 10 (64 bit only)
DirectX: 11

Recommended System Requirements for 3840x2160 (4K), 30 FPS
CPU: Intel Core i7-6700K 4.0 GHz, AMD Ryzen7 1700X 3.4 GHz
GPU: NVIDIA GeForce GTX 1080 or AMD RX Vega64
Video memory: 8 GB
RAM: 16GB
OS: Windows 10 (64 bit only)
DirectX: 11

Recommended System Requirements for 3840x2160 (4K), 60 FPS
CPU: Intel Core i7-6700K 4.0 GHz, AMD Ryzen7 1700X 3.4 GHz
GPU: NVIDIA GeForce GTX 1080Ti or better
Video memory: 8 GB
RAM: 16GB
OS: Windows 10 (64 bit only)
DirectX: 11