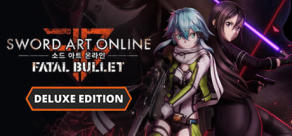 SWORD ART ONLINE: Fatal Bullet Deluxe Edition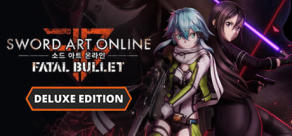 SWORD ART ONLINE: Fatal Bullet Deluxe Edition
About the game
SWORD ART ONLINE: Fatal Bullet Deluxe Edition contains:
Base Game: SWORD ART ONLINE: Fatal Bullet + Season Pass!!
HISTORY:
Experience an original story where you are the protagonist of the world of Gun Gale Online. Create your avatar and explore devastated lands in this thrilling third-person action RPG.
Face enemies and find new and familiar faces from the Sword Art Online series; interact with characters from Sword Art Online's stories, anime, and previous games while exploring a customizable and visually enhanced world. To survive this universe your choices must be faster and lethal than a bullet!
Highlights
Battles with firearms: unlike previous games, battles with firearms play a key role in this action RPG!
Unique design: unique and realistic designs inspired by science fiction films.
Arsenal: Weapons and fighting styles to choose from!
Unreal Engine 4: The power of Unreal Engine 4 adds realism to textures and materials, with breathtaking graphics, helping the player immerse himself in this dynamic world!
System Requirements
Minimum
OS:

Windows 7/8/10 (64-bit)

Storage:

30 GB

Processor:

Intel Core i7-4790 3.6GHz

Memory:

6 GB

Graphics:

NVDIA Geforce GTX 660

DirectX:

11
Recommended
OS:

Windows 10 (64-bit)

Storage:

30 GB

Processor:

Intel Core i7-4790 3.6GHz

Memory:

8 GB

Graphics:

NVDIA Geforce GTX 960

DirectX:

12