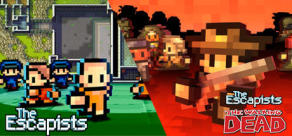 The Escapists + The Escapists: The Walking Dead Deluxe Bundle
About the game
With The Escapists + The Escapists: The Walking Dead Deluxe Bundle you get the following content:
The Escapists;
The Escapists: The Walking Dead.
The Escapists: offers players the opportunity to experience a life in prison, where their day to day goal is to escape! Players will have to walk the line and juggle their time sensibly while formulating their escape plan. Create potential routes to use at the time of escape, be smart and smart to use whatever appears ahead, harmless items can become weapons or tools that will help you meet your ultimate goal of escape.
The Escapists: The Walking Dead: This is the cosmic fusion of indie hit The Escapists with the worldwide phenomenon The Walking Dead. The famed Team17, recognized by such successful franchises as Worms, has been able to bring together the best of both worlds so players have the opportunity to control Rick Grimes as he faces the hordes of zombies that are loosely around the world.
Highlights
The Escapists:
8 prisons fully operational with complete routines to give you a taste of what it's like to be inside!
10 separate job opportunities for you ... If you have the wisdom to stay in these jobs of course!
185+ unique items for you to fetch and maybe even use them to create new items. (Team17 fully supports the use of various weapons, such as scythes, nunchucks and clubs - inside a fictional scenario, of course).
Several kinds of "favors" you can do for the other inmates in order to get some rewards - Will you have the stomach to disturb them inside a jail, will you?
Highly opinionated and incredibly funny features to keep your fingers busy as well as provide entertainment!
Several escape routes for you to work on in order to win the title of "The Escapist"!
Several slots to store your saves, so you can try more than one way to escape!
The Escapists: The Walking Dead:
6 locations: Play 6 of the most famous locations in The Walking Dead series
Epic crafting system: Choose from more than 100 different items to make tools, improve or customize weapons and aid in their survival
Known characters: interact with your favorite comic book characters and series and enlist the right people to help you with important tasks
Routines: Make sure your group of survivors maintains a daily routine, this is important to the morale of the group!
Weapons !: Firearms will be available for crafting and to be found by the maps, in fact, very effective to keep the walkers apart
Zombie Hordes: Use the wit of Rick and his fellow survivors to repel the hordes of zombies hungry for fresh meat.
Achievements: Scour each drawer and room if you want to collect all
Leaderboards: Optimize your plans and strategies to complete missions in the shortest possible time and climb to the top of the world ranking
Save in the cloud: you can save your game in the cloud and ensure that you can play your game anywhere
System Requirements
Minimum
OS:

Windows Vista

Storage:

1GB

Processor:

Dual Core, 2.5GHz

Memory:

2GB

Graphics:

nVidia GeForce 8000, Intel HD Graphics 4000, ATI Radeon HD 4800
Minimum
OS:

Mac OSX 10.8 Mountain Lion

Storage:

1GB

Processor:

Intel Core 2 Duo, 2.5GHz

Memory:

2GB

Graphics:

nVidia GeForce 640M, Intel HD Graphics 4000, ATI Radeon HD 5750M
Minimum
OS:

Ubuntu 12.04 64bit ou superior

Storage:

1GB

Processor:

Dual Core, 2.5GHz

Memory:

2GB

Graphics:

Intel HD Graphics 4000, nVidia GeForce 9800 GT, ATI Radeon HD 7850