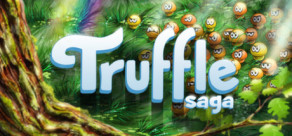 Truffle Saga
About the game
From the makers of Commando Jack, eat Truffle Saga!
Take Truffle on a cool adventure to rid the forest of angry Mushrooms in a fun addicting physics puzzler!
Truffle needs your help, and you have acorns ready to throw at the pesky Mushrooms to destroy them! You have to do it in one shot, I bet you can not, though Truffle will be happy if you do!
Stop the Mushrooms by taking over the forest now in this addictive saga!
Highlights
60 levels to complete 
Complete each level 4 different ways to Crown it! 
Achievements!