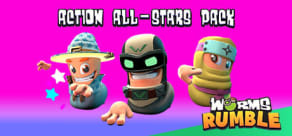 DLC
Worms Rumble - Action All-Stars Pack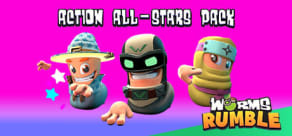 DLC
Worms Rumble - Action All-Stars Pack
About the game
Worms Rumble - Action All-Stars Pack includes:
3 Outfits – Superhero, Wizard and Ninja (each with 3 different colour variants!)• 3 Weapon Skins (Heroic, Magical and Cherry Blossom);
3 Emotes;
3 Titles;
3 Banners.
THE DLC:
Jump into the fight with your favourite action hero! Whether you're bold, cunning, or wise, the Action All-Stars Pack has you covered.
System Requirements
Minimum
OS:

Windows 10 64-bit

Processor:

TBD

Graphics:

TBD

Soundcard:

TBD