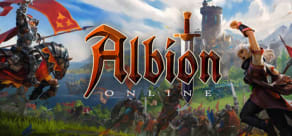 Albion Online
Available Countries
Antigua & Barbuda
Argentina
Bahamas
Barbados
Belize
Bermuda
Bolivia
Brazil
Chile
Colombia
Costa Rica
Cuba
Dominica
Dominican Republic
Ecuador
El Salvador
Falkland Islands
French Guiana
Grenada
Guatemala
Guyana
Haiti
Honduras
Jamaica
Mexico
Nicaragua
Panama
Paraguay
Peru
Puerto Rico
South Georgia & South Sandwich Islands
St. Kitts & Nevis
St. Lucia
St. Vincent & Grenadines
Suriname
Trinidad & Tobago
Uruguay
Venezuela
About the game
Albion Online is a sandbox MMORPG set in an open medieval fantasy world. The game features a player-driven economy where nearly every item is player-crafted.
Combine armor pieces and weapons suited to your playstyle in a unique, classless "you are what you wear" system. Explore the world, take on other adventurers in thrilling battles, conquer territories, and build a home. Craft. Trade. Conquer. Dive in now and become part of a living fantasy world where everybody matters.
Highlights
Player-Driven Economy: From basic tools and clothes to mighty armors and powerful weapons – nearly every item in the game is crafted by players, in player-constructed buildings, from resources gathered by players. Buy, sell, and trade with other players at local marketplaces all across the world of Albion. Craft rare and powerful items, then sell them to the highest bidder and grow your fortune.
No classes, no restrictions:  With Albion Online's classless combat system, switching playstyles is as easy as switching gear. Test out new equipment anytime and swap out weapons, armor, and mounts to suit any situation. Hone your character's skills by crafting new items, or by simply using your favorite equipment.
Prepare to fight: From solo to small-group to large-scale battles, you'll need strategy, tactics and skill to prevail. Test your skills against other adventurers in high-risk, high-reward full-loot fights, and use every tactic at your disposal to emerge victorious.
Conquer the world: Join a guild and carve out your own piece of Albion in tactical guild-versus-guild battles. Take over territories for access to incredible resources. Build guild halls and crafting stations, and conquer entire cities to levy taxes and grow your wealth. Track your guild's progress on a constantly-updated leaderboard, and take on leadership roles to bring your guild to new heights of glory.
Put down roots: Claim a city plot or private island and make it your own. Plant crops to sell or craft into food, raise your own livestock and mounts, and place crafting stations for other players to use for a fee. Stock your house with custom furniture and trophies, build chests to store your growing collection of loot, and hire laborers to keep everything at your homestead running smoothly.
Face deadly foes: From small scouting bands to massive bosses, from dungeons to full-blown faction bases, the inhabitants of Albion's open world await your challenge. Explore five beautiful biomes, each with its own challenges. Take on six different factions, each with unique enemies that require their own strategy. Partake in solo or group expeditions – or seek out the ultimate thrill by facing demons and other players alike in Hellgates.
Cross-platform play: Albion Online is a true cross-platform MMO experience. Whether you prefer Windows, Mac, Linux, or even Android or iOS (mobile currently in beta), one account lets you play on all platforms, with all players on a single shared server. Forge alliances with other players worldwide and take part in massive battles to determine the fate of Albion.
System Requirements
Minimum
OS:

Windows 7 / 8 / 10 64-bit

Storage:

2 GB

Processor:

Processador Intel / AMD com SSE2

Memory:

4 GB

DirectX:

10
Recommended
OS:

Windows 10 64-bit

Storage:

2 GB

Processor:

Processador Intel / AMD com SSE2

Memory:

8 GB

DirectX:

10