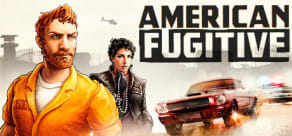 American Fugitive
Available Countries
Argentina
Bahamas
Belize
Bolivia
Brazil
Chile
Colombia
Costa Rica
Dominican Republic
Ecuador
El Salvador
Guatemala
Guyana
Honduras
Jamaica
Mexico
Nicaragua
Panama
Paraguay
Peru
Puerto Rico
Suriname
Trinidad & Tobago
Uruguay
Venezuela
About the game
American Fugitive is a modern version of the classic sandbox action that offers a new 3D single-player open-air experience with aerial vision. Developed by Fallen Tree Games, whose two studio founders have experience with AAA games, including TimeSplitters, Crysis, Black, and Goldeneye 007: Reloaded.
Set in the southern United States of the 80s, American Fugitive is a love letter to the old movies and classic games and it is with this backdrop that you are welcomed in Redrock County, a quiet little town where the crime underworld is boiling.
You'll take the role of Will Riley. You are no angel, but you are not a murderer either. Even so, you were arrested for your father's cold-blooded murder. Driven by pain and a burning desire for revenge, you run away from the chain determined to find the real culprit. Now that you're out, you should blend in with the population to avoid being recaptured. Make contact with the criminal underworld and stay alert with the police.
Highlights
A modern take on classic sandbox action: rediscover the joy of top-down carnage with stunning 3D graphics and destructible environments, dramatic storytelling and epic car-chase mayhem.
A mature action game based on an original story: unravel a plot of mystery, deception and corruption, full of twists and turns, inhabited by a motley cast of law-breakers and law-enforcers.
A stunning open-world environment: explore Redrock County on foot on by car - a beautiful and vibrant slice of 80s rural USA. 
Choose the life of a felon: rob houses, steal cars, arm yourself to the teeth. Just don't get caught!
Put the pedal to the metal: test yourself against time trial challenges and stunt jumps dotted throughout the world, using any of the numerous vehicles.
A wealth of activities: whether you're undertaking jobs for the criminal underworld, uncovering hidden stashes, looting houses, sticking up stores, or fencing fine art, remain vigilant. The crooked cops will stop at nothing to see you back behind bars!
System Requirements
Minimum
OS:

Windows 7 / 8 / 8.1 / 10 [x64]

Storage:

2 GB

Processor:

Intel Core2 Quad Q9550 (4 - 2830) / AMD Athlon X4 740

Memory:

4 GB

Graphics:

GeForce GT 460 (1024 MB) / Radeon 7770 (1024 MB)
Recommended
OS:

Windows 7 / 8 / 8.1 / 10 [x64]

Storage:

2 GB

Processor:

Intel Core i5-760 (4 - 2800) / AMD Phenom II X4 965 (4 - 3400)

Memory:

4 GB

Graphics:

GeForce GTX 750 (2048 MB) / Radeon R7 260X (2048 MB)