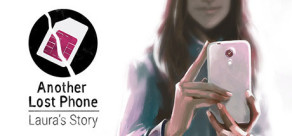 Another Lost Phone: Laura's Story
Available Countries
Antigua & Barbuda
Argentina
Bahamas
Barbados
Belize
Bermuda
Bolivia
Brazil
Chile
Colombia
Costa Rica
Cuba
Dominica
Dominican Republic
Ecuador
El Salvador
Falkland Islands
French Guiana
Grenada
Guatemala
Guyana
Haiti
Honduras
Jamaica
Mexico
Nicaragua
Panama
Paraguay
Peru
Puerto Rico
South Georgia & South Sandwich Islands
St. Kitts & Nevis
St. Lucia
St. Vincent & Grenadines
Suriname
Uruguay
Venezuela
About the game
Another Lost Phone is a game about exploring the social life of a young woman whose phone you have just found. This game is designed as a narrative investigation where you must piece together elements from the different applications, messages and pictures to progress. Scrolling through the phone's content, you will find out everything about Laura: her friendships, her professional life and the events that led to her mysterious disappearance and the loss of this phone.
Highlights
Combine your findings from the phone's apps, messages and photo galleries to uncover the mystery surrounding Laura's disappearance.
Delve into the professional life, relationships & social habits of a young adult in the digital age. Experience a relatable story and build empathy with the characters, allowing you to explore difficult topics and social issues.
Act as yourself in a game that bridges the gap between reality and fiction. If you close the app but still think about the game, have you truly stopped playing?