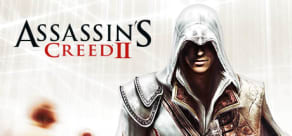 Assassin's Creed II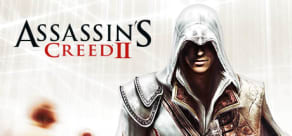 Assassin's Creed II
Available Countries
Antigua & Barbuda
Argentina
Bahamas
Barbados
Belize
Bermuda
Bolivia
Brazil
Chile
Colombia
Costa Rica
Cuba
Dominica
Dominican Republic
Ecuador
El Salvador
Falkland Islands
French Guiana
Grenada
Guatemala
Guyana
Haiti
Honduras
Jamaica
Mexico
Nicaragua
Panama
Paraguay
Peru
Puerto Rico
South Georgia & South Sandwich Islands
St. Kitts & Nevis
St. Lucia
St. Vincent & Grenadines
Suriname
Uruguay
Venezuela
About the game
In the new Assassin's Creed, Altaïr is no longer present. The character who staged the first title is about three hundred years in the past, and now the protagonist is Ezio, who, by "coincidence", is the Italian word for eagle.
Ezio Auditore is a Florentine nobleman, descendant of Altaïr, and will bring to the franchise a series of modifications. Among the main ones are swimming and flying (yes, flying), and for this second the protagonist will use nothing less than the flying machine of Leonardo Da Vinci, a kind of grandmother of the hang glider.
Other interesting changes are the variety of weapons, which increases considerably, releasing axes, other swords, spears, two hidden blades and many other weapons. The game takes place in Florence and other neighboring cities.
In addition to dodging silently on the roofs by fleeing guards, climbing walls and using deadly fighting techniques, he will encounter famous characters from Italian history, including Leonardo Da Vinci, who can supply him with new weapons and instruments. But what at first was a personal revenge, will take Ezio to the center of a conspiracy that could never be imagined.
Highlights
A Greater and More Relevant Conspiracy: Travel behind the walls of Italy to unravel the real secrets of the fights between the Templars and the assassins.
A remarkable age: Interact with some of the most famous personalities in history, such as Leonardo, Machiavelli, the Mafia (of Borgia and Medici), Mona Lisa, etc.
New Economic System: Buy weapons and upgrades, get favors from the people and build your own hiding place.
System Requirements
Minimum
OS:

Windows XP, Vista, Win 7

Storage:

12 GB

Processor:

Intel Core 2 Duo 1.8GHz/ AMD Athlon X2 64

Memory:

2 GB

Graphics:

256 MB, NVIDIA 6600 / ATI X1300

DirectX:

9.0c
Recommended
OS:

Windows XP, Vista, Win 7

Storage:

12 GB

Processor:

Intel Core 2 Duo E6700 3GHz/ AMD Athlon 64 X2 6000+

Memory:

3 GB

Graphics:

512 MB, NVIDIA 8800 GT / ATI HD 4770

DirectX:

9.0c