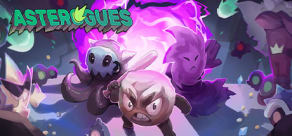 Asterogues
Available Countries
Antigua & Barbuda
Argentina
Bahamas
Barbados
Belize
Bermuda
Bolivia
Brazil
Chile
Colombia
Costa Rica
Cuba
Dominica
Dominican Republic
Ecuador
El Salvador
Falkland Islands
French Guiana
Grenada
Guatemala
Guyana
Haiti
Honduras
Jamaica
Mexico
Nicaragua
Panama
Paraguay
Peru
Puerto Rico
South Georgia & South Sandwich Islands
St. Kitts & Nevis
St. Lucia
St. Vincent & Grenadines
Suriname
Uruguay
Venezuela
About the game
Join us to play the demo, see progress, and chat with the developer!
Defeat planets in this hellish cosmic shooter hybrid! Choose your character from a group of outcasts banished to the Asteroid Belt and take revenge on the Solar System!
Driven out by the Sun itself, each rebel must use their unique power and the items and weapons they collect to fight their way to the center of the Solar System and exact revenge. In various zones, clusters of asteroids, aliens and stars attempt to crush the rebellion, and only the most skilled fighter has a chance to avoid the endless onslaught. And even so, the 8 planets remain vigilant in their territories, ready to destroy any invader who dares to pass by. Are you strong enough to take revenge?
Highlights
PICK YOUR ROGUE! -  Each character has their own problem with the Sun and their own special ability to turn enemy bullets against them! Unlock and master each character!COLLECT ITEMS! - Find dozens of unique passive and active items during your journey, create powerful synergies and get a new experience every time you play!
DEFEAT ENEMIES! - The Solar System is filled with faithful Sun worshipers who fire their own unique projectiles! Learn every bullet and every enemy pattern for a chance to win!
BEAT UP PLANETS! - The 8 planets control the Solar System under the command of the Sun. You will have to take them down before you have the chance to see the Sun itself!
System Requirements
Minimum
OS:

Windows 7

Storage:

1 GB

Processor:

Dual Core 2.4 GHz

Memory:

4 GB

Graphics:

Nvidia 450 GTS / Radeon HD 5750 or better
Recommended
OS:

Windows 7

Storage:

1 MB

Processor:

Dual Core 2.4 GHz

Memory:

4 MB

Graphics:

Nvidia 450 GTS / Radeon HD 5750 or better