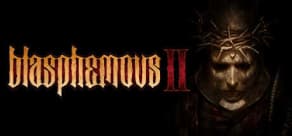 Blasphemous 2
Available Countries
Argentina
Bolivia
Brazil
Chile
Colombia
Costa Rica
Cuba
Dominican Republic
Ecuador
El Salvador
French Guiana
Guatemala
Guyana
Honduras
Mexico
Nicaragua
Panama
Paraguay
Peru
Puerto Rico
Suriname
Uruguay
Venezuela
About the game
The second scripture in the Blasphemous series presages the return of the Penitent, with a story that continues that of the original game's Wounds of Eventide DLC, in which the heart in the sky heralded the return of the Miracle and prophesied the birth of a new miracle child.
Awakened in a strange new land and cast out of his final resting place, the Penitent is thrust back into an eternal cycle of life, death and resurrection, with no option but to explore this perilous world and unlock its long-forgotten secrets. .
Hordes of grotesque enemies stand in the Penitent's path, only to suffer doom at his brute hands, plus titanic bosses that lurk in the darkness, waiting for a chance to take you back to the tomb you came from.
Defeating them won't be easy, but with the widest range of customization and skill enhancements in Blasphemous 2, plus countless new and unique weapons to wield with the fervor of justice and undying fury, victory should be within reach. .
In the end, only one thing is certain... penance never ends.
Highlights
Explore an even more complete non-linear world - Waking up in a strange land, your journey starts from scratch in a series of grotesque and enchanting landscapes, full of gothic charm and full of unforgiving traps. It's only you who decides how to navigate this labyrinthine world, and there are no wrong paths to be taken, only scores to settle.
Brutal Combat - The Penitent shows no mercy, and with a host of new weapons providing new moves, brutal executions and expanded combos, destruction will fall on anyone who gets in the way
Customize Your Game Experience - Blasphemous 2 has new ways to play, with the ability to customize and upgrade your abilities, as well as tons of new and unique weapons used to unleash devastating attacks on enemies
Massive and Intense Boss Battles - Hordes of monstrous enemies try to stop you from reaching your goal; Vicious bosses with unique attack patterns and devastating abilities will put your dexterity to the test as you fight your way out triumphant after the dust settles.
Explore a Deep New World - An entirely new world awaits you, full of mysterious NPCs to interact with. Some will offer help, others will need it, and still others will send you on death-defying quests to obtain long-forgotten items. With so much to see and do, the stories and myths you encounter will help unlock the game's many secrets, ensuring a better understanding of this strange new world.
System Requirements
Minimum
OS:

Windows 10

Processor:

Intel Core 2 Duo E8400 or AMD Phenom II X2 550

Memory:

4 GB

Graphics:

NVIDIA GeForce GT 520/ 1 GB or AMD Radeon HD 7470/ 1 GB or Intel HD Graphics 4400
Recommended
OS:

Windows 10

Processor:

Intel Core i3-550 or AMD FX-4100

Memory:

6 GB

Graphics:

NVIDIA GeForce GT 710/ 1 GB or AMD Radeon R7 240/ 1 GB or Intel HD Graphics 530