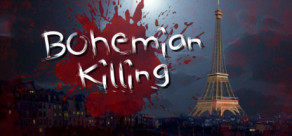 Bohemian Killing
Available Countries
Antigua & Barbuda
Argentina
Bahamas
Barbados
Belize
Bermuda
Bolivia
Brazil
Chile
Colombia
Costa Rica
Cuba
Dominica
Dominican Republic
Ecuador
El Salvador
Falkland Islands
French Guiana
Grenada
Guatemala
Guyana
Haiti
Honduras
Jamaica
Mexico
Nicaragua
Panama
Paraguay
Peru
Puerto Rico
South Georgia & South Sandwich Islands
St. Kitts & Nevis
St. Lucia
St. Vincent & Grenadines
Suriname
Trinidad & Tobago
Uruguay
Venezuela
About the game
Steampunk Paris, set against the background of the late 19th century, torn between tradition and modernity. Class differences and pervasive racism finally lead to a tragedy. A year later you find yourself on trial, accused of a brutal murder. How will you go to exonerate yourself? Will you lie, seek evidence to prop your testimony or, perhaps, pretend to be insane? Your imagination is the limit.

Bohemian Killing is a narrative-driven courtroom drama, offering players almost unlimited possibilities of solving the lawsuit, thanks to the complete integration of gameplay and narrated story. It is also the first law-themed game made by a real-life lawyer!
STORYLINE
Welcome to Paris of the late 19th century. The aftermath of the Great Revolution offered a new start for each and every citizen, regardless of social class. Alfred Ethon, a young inventor of Gypsy origin, benefits from the change, becoming a symbol of success thanks to his hard work and innovative projects, well ahead of their time.
Soon, a young woman is brutally murdered - a maid working for an impoverished Lord, a relic of the old French regime. Is Alfred Ethon to be blamed for the murder? The evidence points towards him ... But you can change that.
As you stand before the court, all you can count on is your own intellect and creativity. But how does that look in practice?
GAMEPLAY
Gameplay in Bohemian Killing is a combination of a courtroom drama, and a walking simulator. It can be classified as a first person experience, or a first person interactive story adventure game.
The story is set within two time frames. In the present, you find yourself locked up in the courtroom. You are getting acquainted with the evidence, witness testimony and questions posed by the Judge. Each question triggers a flashback - and begins your testimony. During the flashback you find yourself in a Parisian district, with each of your decisions, interactions and action affecting Alfred Ethons' testimony and the final verdict.
To help you in your testimony, you'll have access to all the evidence gathered on the case - expert opinions, reports and witness testimonies. Each of them can be refuted in a number of different ways.
In the Evidence menu you can familiarize yourself with testimonies of witnesses, forensic expertises, physical evidences, etc. They are grouped into appropriate categories, making them easy to find.
System Requirements
Minimum
OS:

Microsoft Windows 7 32bit

Storage:

7 GB

Processor:

Intel Core 2 Duo 1,66 GHz

Memory:

4 GB RAM

Graphics:

Radeon HD 7500G/Intel HD Graphics 3000
Minimum
OS:

Mac OS X 10.8.5

Storage:

7 GB

Processor:

Intel Core i5 1.7

Memory:

4 GB RAM

Graphics:

Radeon HD 7500G/Intel HD Graphics 3000