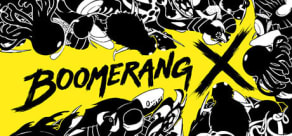 Boomerang X
Available Countries
Antigua & Barbuda
Argentina
Bahamas
Barbados
Belize
Bermuda
Bolivia
Brazil
Chile
Colombia
Costa Rica
Cuba
Dominica
Dominican Republic
Ecuador
El Salvador
Falkland Islands
French Guiana
Grenada
Guatemala
Guyana
Haiti
Honduras
Jamaica
Mexico
Nicaragua
Panama
Paraguay
Peru
Puerto Rico
South Georgia & South Sandwich Islands
St. Kitts & Nevis
St. Lucia
St. Vincent & Grenadines
Suriname
Uruguay
Venezuela
About the game
Reaving through hordes of nightmares isn't the only thing your boomerang is good for: once thrown, you can slingshot directly to it, preserving momentum and throwing yourself through the air. Slow down time and use well-aimed and well-timed throws to get around, above, and behind your foes. Speed is everything, and only the nimblest boomerang-er will survive…
Highlights
Powers from beyond: Fight otherworldly forces and look cool doing it. Impress the boomerang with stylish tricks and it'll grant you stranger powers, powers that'll let you defeat the forces of the depths with greater ease. Kaspidae smiles upon you and your killer moves…
Foul creatures of Goo: They creep and crawl from crevices... swoop and dive from the treetops… and spray nasty bile at you from all angles. Keep your wits about you - nowhere is safe. Whatever you do, don't stand still, or you'll surely be consumed...
Avenge a Fallen Realm: Fight your way through the bowels of ruined civilization undone by these creatures of nightmare and stop them spreading to the rest of your world. Something lurks deep underneath these ruined halls, spewing corruption… can you defeat whatever it is? And even if you can… will that really be the end?
Millipede friend!
System Requirements
Minimum
OS:

Windows 10 64-bits

Storage:

10 GB

Processor:

Intel Core i5-4670K

Memory:

4 GB

Graphics:

GeForce GTX 660 2GB VRAM

DirectX:

11
Recommended
OS:

Windows 10 64-bits

Storage:

10 GB

Processor:

Intel Core i7-7700HQ

Memory:

8 GB

Graphics:

GeForce GT 1050Ti 4GB VRAM

DirectX:

11