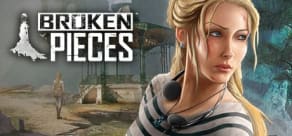 Broken Pieces
Available Countries
Antigua & Barbuda
Argentina
Bahamas
Barbados
Belize
Bermuda
Bolivia
Brazil
Chile
Colombia
Costa Rica
Cuba
Dominica
Dominican Republic
Ecuador
El Salvador
Falkland Islands
French Guiana
Grenada
Guatemala
Guyana
Haiti
Honduras
Jamaica
Mexico
Nicaragua
Panama
Paraguay
Peru
Puerto Rico
South Georgia & South Sandwich Islands
St. Kitts & Nevis
St. Lucia
St. Vincent & Grenadines
Suriname
Uruguay
Venezuela
About the game
Basically created by a team of 5 people, Broken Pieces is the first game to be released by French game development studio Elseware Experience.
When Elise and her fiancé decide to leave city life and settle down near the French coast, she never imagined that she would end up all alone.
Now, surrounded by a strange phenomenon in a gloomy post-war climate, Elise will have to investigate and unravel the mysteries that surround the Saint-Exil region, its ritualistic cult and its lighthouse that monitors the coast.
Broken Pieces is an action-packed investigative adventure game set in France. The game puts you in the shoes of Elise, a woman in her 30s in the village of Saint-Exil, an imaginary region of British remnants. Tracking the unexplained paranormal phenomenon, Elise is trapped, all alone and out of time. Your investigation starts here...
Highlights
Game time: 9 am to 12 pm.
DLSS compliant.
Explore the Saint-Exil area and its surroundings in the 1990s.
Enjoy a completely overhauled version of the camera system that accompanied the 1990s game franchises, geared towards greater flexibility and player action.
Switch between 2 camera angles in any situation or go into first-person view for a closer-up thrill.
Interact with the environment to learn more about what happened to you in Saint-Exil.
Your investigation will be rhythmically punctuated by cinematic sequences, with motion captured entirely from handheld cameras.
Fully embark on an atmosphere of tension on your adventure.
Use your watch to keep an eye on the time. It is crucial that you return home before dark.
Manage your inventory capacity and ensure you can carry what you need to move forward.
A variety of extra interactive elements, such as an antique arcade machine, are available in your primary and secondary missions.
Change the weather in Saint-Exil to create new paths and solve challenges that block your progress.
You'll find tapes that will give you hints to help with your investigation.
Use the Walkman to fast forward or rewind tapes and find the information you're looking for.
Listen to your tapes as you explore the village of Saint-Exil and enjoy an incredible discovery experience.
Discover the music that Pierre composed for Elise, as she will accompany you on your adventure.
Engage enemies with a unique combat system that uses fixed camera angles.
Dodge your enemies and keep them at a distance using your powers to defeat them.
Restore your life by grabbing a drink from the fridge, taking a nap on a bench or spending the night in the safety of your bed.
Craft high quality ammunition and upgrade your weapon to enhance your fighting skills.
System Requirements
Minimum
OS:

Windows 7 (64 bit)

Storage:

23 GB

Processor:

Intel Core i3-2130 (3.4 GHz)/AMD FX-4100 (3.6 GHz)

Memory:

8 GB

Graphics:

3 GB/ GeForce GTX 1050 (Legacy GPU: GeForce GTX 660) / Radeon R7 370

DirectX:

10
Recommended
OS:

Windows 10 (64 bit)

Storage:

23 GB

Processor:

Intel Core i7-3930K (3.2 GHz)/AMD Ryzen 5 1600 (3.2 GHz)

Memory:

8 GB

Graphics:

4 GB/ GeForce GeForce GTX 970 / GTX 1060 / Radeon R9 390

DirectX:

11