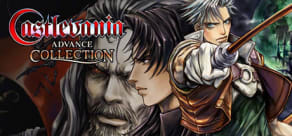 Castlevania Advance Collection
Available Countries
Antigua & Barbuda
Argentina
Bahamas
Barbados
Belize
Bermuda
Bolivia
Brazil
Chile
Colombia
Costa Rica
Cuba
Dominica
Dominican Republic
Ecuador
El Salvador
Falkland Islands
French Guiana
Grenada
Guatemala
Guyana
Haiti
Honduras
Jamaica
Mexico
Nicaragua
Panama
Paraguay
Peru
Puerto Rico
South Georgia & South Sandwich Islands
St. Kitts & Nevis
St. Lucia
St. Vincent & Grenadines
Suriname
Uruguay
Venezuela
About the game
Castlevania Advance Collection includes:
Castlevania: Circle of the Moon;

Castlevania: Harmony of Dissonance;

Castlevania: Aria of Sorrow;

Castlevania: Dracula X.
THE GAME:
Count Dracula is once more back from the dead... Join the fight against Evil in the Castlevania Advance Collection, a compilation of timeless action-exploration masterpieces!
In addition to the three legendary Castlevania games that were first released in the early 2000s, this collection also includes Castlevania: Dracula X and some never-before-seen sketches and artwork from the games!
All four games are enhanced with newly added modern features such as Rewind, Save/Load and Replay, making this the best way possible to experience these classics or discover them for the first time! This collection also boasts a handy Encyclopedia, a Music Player with all soundtracks and you can even change the ROM Region to play all games in different versions.
Highlights
Brand New Features for an Improved Experience!
Gallery: Browse through scans of the original package designs and discover incredible artwork never shown to the public before.
ROM Region Selection: You can choose between the Japanese, American, and European versions for each game.
Encyclopedia: Learn more about all three games thanks to their dedicated encyclopedia.
Detailed information on enemies, the 'DSS' system, the 'Tactical Soul' system and the 'Spell Fusion' system will help you truly master each game's unique combat system!
Music Player: Listen to any of four complete soundtracks any time you want. You can even create your own playlists!
Save/Load: You can now quickly save and reload at any point in the game. Even right before that deadly attack from Dracula himself.
Rewind: You can now rewind the state of the game for a few seconds for a second chance. It is almost like being resurrected...
Replay: You can record and replay your runs. This is great for creating new tactics, speed runs and streaming.
System Requirements
Minimum
OS:

Windows 10 64bit

Storage:

500 MB

Processor:

Intel Core i3-4160

Memory:

4 GB

DirectX:

9.0
Recommended
OS:

Windows 10 64bit

Storage:

500 MB

Processor:

Intel Core i3-6300

Memory:

4 GB

Graphics:

GeForce GTX 750Ti 2GB

DirectX:

9.0