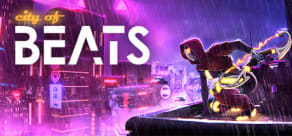 City of Beats
Available Countries
Antigua & Barbuda
Argentina
Bahamas
Barbados
Belize
Bermuda
Bolivia
Brazil
Chile
Colombia
Costa Rica
Cuba
Dominica
Dominican Republic
Ecuador
El Salvador
Falkland Islands
French Guiana
Grenada
Guatemala
Guyana
Haiti
Honduras
Jamaica
Mexico
Nicaragua
Panama
Paraguay
Peru
Puerto Rico
South Georgia & South Sandwich Islands
St. Kitts & Nevis
St. Lucia
St. Vincent & Grenadines
Suriname
Uruguay
Venezuela
About the game
Music is everywhere in the City of Beats and is the fuel for absolutely everyone in this shooting game, ladino style. Ouça a batida, enter the rhythm, and shoot the bullets of hell at the roofs of the city, ending up with legions of hostile robbers.
Don't worry about the damage: the humans will part many years ago, only the androids will be left over. Well, androids and robos, controlled by an angry AI, to Zeitgeber, who tempts every robo nation with his own attack. Someone needs to do something or please put an end to this party.
Highlights
Everything is driven by music. All the same. Weapons, enemies, environmental dangers, everything moves with the rhythms of ballads. Listen to the music to predict attacks, know when to dodge and avoid traps — and know when to fire, use special abilities, and unleash super attacks. Master the beat of the music, dance on skyscrapers and nobody can stop you.
Embark on endless expeditions on the generated maps. No game is the same as the other, the enemies change, the encounters change and there are always improvements. Try different arrangements every turn. How will tonight's pack be? Damage modifiers? Shield boosts? Unusual modifiers capable of completely changing the flow of battle? The music is the boss! Make an orchestra with friends. Put an end to the robot party! Very believable mechanics. Evil robots want your blood for illicit upgrades! Rhythm brings together all the arrangements of synthetic life.
You only have one life, but fear not, destruction is a problem for androids. In the Beacon, improve core stats, buy new weapons and equip extensions, and don't forget to stretch before getting ready for the next dance.
System Requirements
Minimum
OS:

Windows 10

Storage:

3 GB

Processor:

x64 Quad Core

Memory:

4 GB

Graphics:

Dedicated graphics card (not onboard) with >= 1GB RAM

DirectX:

11
Recommended
OS:

Windows 10

Storage:

3 GB

Processor:

x64 Quad Core

Memory:

8 GB

Graphics:

GeForce GTX 1060 or similar

DirectX:

11