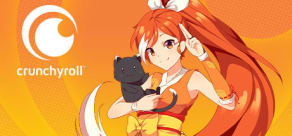 Crunchyroll Fan - 1 month
About the game
Crunchyroll is the streaming service with the Largest Anime Catalog in the World!
Subscribe to the Fan plan and receive unlimited access to the entire Crunchyroll anime catalog, ad-free and restricted to a single screen.
More than 30 thousand episodes! Enjoy Our Catalog of Hundreds of Animes and Simulcasts with Professional Subtitles. Watch Naruto, One Piece, Black Clover, Hunter x Hunter, BORUTO and more.
Watch where you want, when you want. Access from your PC or smartphone
Enjoy an ad-free experience, with full access to Crunchyroll's immense collection of anime, as well as being able to watch episodes simulcast with Japan. The Fan plan will also have quarterly versions.
Crunchyroll will bring new ways for anime fans to enjoy its ever-expanding collection.
Highlights
Subscribers can enjoy a bunch of perks:
No ads
Unlimited access to the Crunchyroll library
New episodes soon after airing in Japan
Watch on up to 1 screen