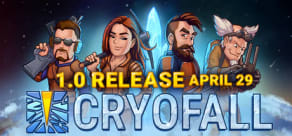 CryoFall
Available Countries
Antigua & Barbuda
Argentina
Bahamas
Barbados
Belize
Bermuda
Bolivia
Brazil
Chile
Colombia
Costa Rica
Cuba
Dominica
Dominican Republic
Ecuador
El Salvador
Falkland Islands
French Guiana
Grenada
Guatemala
Guyana
Haiti
Honduras
Jamaica
Mexico
Nicaragua
Panama
Paraguay
Peru
Puerto Rico
South Georgia & South Sandwich Islands
St. Kitts & Nevis
St. Lucia
St. Vincent & Grenadines
Suriname
Uruguay
Venezuela
About the game
CryoFall is a science-fiction multiplayer survival game set on a forgotten planet from a distant future. Welcome to the world of CryoFall, where a catastrophic landing made you and dozens of others end up trapped on a hostile planet millions of light-years from home, in constant danger.
Your only hope for survival is to use the resources around you as you develop skills and advance technology to conquer the new territory, tame hostile nature, and build a new life for you and those who have found themselves abandoned in CryoFall.
Alongside many other survivors, you can create your own cities, establish active economy, industry and agriculture, or plunder the fruit of other survivors' work.
Highlights
Complex crafting and industrial system, including oil refining & lithium extraction;
Various stages of technological progress (primitive, industrial, modern, post-modern, sci-fi);
Farming with complex crop growth simulation, fertilizers, etc. & diverse cooking options;
Wide range of player interactions and roles with meaningful specialization options, emphasizing meaningful interactions rather than just combat;
Economy with coin minting, complex trading and automated vending machines managed by players;
Carefully hand-crafted maps and locations (+ map editor);
Storyline elements discovered through exploration;
Diverse environments with several biomes (temperate, desert, tropical, boreal, wasteland, etc.);
In-house developed Renkei Engine™, allowing hundreds of players on the same server;
Complex character simulation with a multitude of status effects (e.g. bleeding, poisoning, radiation, etc.);
Extensive modding capabilities, including real-time code editing.
System Requirements
Minimum
OS:

Windows 7/8.1/10 (64-bit only)

Storage:

350 MB

Processor:

Dual Core 2.2 GHz +

Memory:

3 GB

Graphics:

1 GB

DirectX:

11
Recommended
OS:

Windows 7/8.1/10 (64-bit only)

Storage:

350 MB

Processor:

uad Core 1.8 GHz +

Memory:

4 GB

Graphics:

2 GB

DirectX:

11