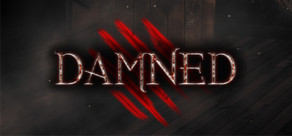 Damned
Available Countries
Antigua & Barbuda
Argentina
Bahamas
Barbados
Belize
Bermuda
Bolivia
Brazil
Chile
Colombia
Costa Rica
Cuba
Dominica
Dominican Republic
Ecuador
El Salvador
Falkland Islands
French Guiana
Grenada
Guatemala
Guyana
Haiti
Honduras
Jamaica
Mexico
Nicaragua
Panama
Paraguay
Peru
Puerto Rico
South Georgia & South Sandwich Islands
St. Kitts & Nevis
St. Lucia
St. Vincent & Grenadines
Suriname
Trinidad & Tobago
Uruguay
Venezuela
About the game
Damned is a randomized online horror game for up to 5 players (4 survivors and 1 monster). You'll be able to play as one of four people trapped in different haunted places (hotels, hospitals, etc).
As a survivor your main objective will be finding your way out, as well as helping your friends get out too. You'll often find yourself on the edge, hearing and seeing ghostly things, trying to find keys and items to help in your escape. And sometimes you'll find yourself running desperately from a monster, who's there only to find and kill you and your friends. 
You'll also be able to play as the monster. The game will feature different monsters, each one unique in its gameplay and hunting style
Highlights
Almost all the objects in a stage may or may not appear; 
The item system is fully random too, randomizing which item will appear in the game, and where it'll be; 
The way to win a match as a survivor is also randomized;
Even the stage may trigger random events to scare the survivors inside.
System Requirements
Minimum
OS:

Windows Vista

Storage:

1 GB

Processor:

2.0+ GHz (quad core)

Memory:

3 GB

Graphics:

ATI Radeon HD 2000+, nVidia GeForce FX 6

DirectX:

9.0
Recommended
OS:

Windows 7

Storage:

1 GB

Processor:

3.0+ GHz (quad core)

Memory:

4 GB

Graphics:

Radeon HD 4850, GeForce GT 645M

DirectX:

9.0