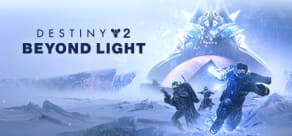 Destiny 2: Beyond Light
Available Countries
Argentina
Brazil
Chile
Colombia
Costa Rica
Mexico
Peru
Philippines
Uruguay
About the game
GO BEYOND THE LIGHT
A new power is born out of the ancient Pyramid ship above Europa's frozen frontier, and a dark empire has risen beneath, united under the banner of the Fallen Kell of Darkness, Eramis. Join your fellow Guardians and bring down the empire at any cost – even if it means wielding the Darkness itself.
EUROPA AWAITS
The splintered houses of the Fallen have rallied and built their new empire on the icy moon of Europa. Brave the unrelenting glacial frontier, infiltrate the Golden Age Braytech facility, and uncover the secrets that lie deep under the ancient ice.
WIELD THE DARKNESS
As the new threat emerges, so too does a mysterious new power – Stasis.
Rooted in Darkness, Guardians will wield this new elemental power alongside Arc, Solar, and Void, summoning epic supers to dominate the battlefield. Titans, Warlocks, and Hunters each use Stasis in a different way, from slowing down foes with Stasis fields to encasing and shattering enemies with destructive might.
EXOTIC GEAR
There are those who believe Europa is nothing more than a frozen Golden Age graveyard, its treasures long ago swallowed by ice and darkness. You know better. Beneath the ruins lie countless relics, an arsenal of weapons, and more. Claim this cutting-edge tech from the clutches of time and dare to tame the wasteland.
DEEP STONE CRYPT
Below frozen tundra of Europa lies the Deep Stone Crypt. For decades it has remained dormant. Your fireteam cautiously approaches, weapons raised, and the final plan is set in motion.
Highlights
Um Novo Destino: Em Destiny 2: Além da Luz, os Guardiões explorarão um novo destino: A lua congelada de Júpiter, Europa. Enfrente duras condições climáticas e descubra segredos que se encontram sob o gelo eterno.
Empunhe a Treva: Com uma nova ameaça, emerge também um novo e misterioso poder: estase. Os Guardiões empunharão esse poder elementar, oriundo da Treva, para dominar o campo de batalha. Titãs, Arcanos e Caçadores empunham a estase cada um à sua maneira, com novas subclasses incríveis a explorar.
Uma Nova Incursão Aguarda: Sob a tundra de Europa, se encontra a adormecida Cripta da Pedra Profunda. Recompensas únicas aguardam os que triunfarem em suas profundezas.
Novas Recompensas: Um novo capítulo no universo de Destiny 2 lhe aguarda em Além da Luz, com novas jornadas, desafios, recompensas e mais.
System Requirements
Minimum
OS:

Windows 7/8.1/10 64-bit

Storage:

105 GB

Processor:

ntel Core i3 3250 3.5 GHz / Intel Pentium G4560 3.5 GHz / AMD FX-4350 4.2 GHz

Memory:

6 GB

Graphics:

NVIDIA GeForce GTX 660 2GB / GTX 1050 2GB / AMD Radeon HD 7850 2GB
Recommended
OS:

Windows 7/8.1/10 64-bit

Storage:

105 GB

Processor:

Intel Core i5 2400 3.4 GHz / i5 7400 3.5 GHz / AMD Ryzen R5 1600X 3.6 GHz

Memory:

8 GB

Graphics:

NVIDIA GeForce GTX 970 4GB / GTX 1060 6GB / AMD R9 390 8GB