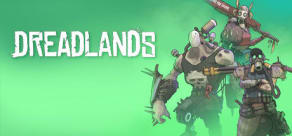 Dreadlands
Available Countries
Antigua & Barbuda
Argentina
Bahamas
Barbados
Belize
Bermuda
Bolivia
Brazil
Chile
Colombia
Costa Rica
Cuba
Dominica
Dominican Republic
Ecuador
Falkland Islands
French Guiana
Grenada
Guatemala
Guyana
Haiti
Honduras
Jamaica
Nicaragua
Panama
Paraguay
Peru
Puerto Rico
South Georgia & South Sandwich Islands
St. Kitts & Nevis
St. Lucia
St. Vincent & Grenadines
Suriname
Trinidad & Tobago
Uruguay
Venezuela
About the game
Welcome to the vivid, vibrant, and violent post-apocalypse. The Dreadlands await.
Dreadlands is a shared world, turn-based tactical, skirmish game set in an unforgiving environment where life and death revolves around the constant struggle for Glow, a resource as valuable as it's enigmatic.
Exploring the Dreadlands will be a diverse and dangerous trek. The region resembles a patchwork of constracting biomes, a strange brew definitely not concocted through the methodical work of mother nature.
There's an abundance of jaw-dropping sights to see and bothersome things to kill, as you travel across grasslands, lush swamp-jungle hybrids, mountains, desert plains and contaminated zones of utter devastation.
The Dreadlands is notorious as a unique and wondrously weird place, which is quite a feat, considering the post-apocalyptic world is no stranger to otherworldly strangeness.
Highlights
GANG FACTIONS
Create your gang from any of the rival factions inhabiting Dreadlands. Two factions will be available at Early Access Launch, The Scrappers and the Tribe-kin, and will soon be joined by a third faction, the Skarbacks.
All playable Gang Factions have their own background campaign. The storyline will introduce the player to the faction's worldview, mentality, culture and of course, current problems that have to be dealt with.
Once the Gang Faction campaign is completed, the Main Story campaign will be unlocked. The Main Campaing will thrust the player deeper into the lore, intrigue and many entities vying for power, or merely survival, in the Dreadlands.
TACTICAL COMBAT
Free Action Point system: Freely move, attack and use abilities any way you want. Move and shoot? Shoot and move? Shoot twice? It's up to you to decide how to best use your Action Points!
Morale system: Engage in the tug-of-war Morale system that allows you to break the hearts & minds of your enemies. In the Dreadlands there is more to battle than just killing!
XP challenges system: Get more direct control over your gangs XP flow by completing in-match challenges for increased XP and award your personal MVP with even more XP. Your own skill translates to more XP!
Tactics card system: Use the unique Tactics powers and combine them in exciting ways. Play your cards right and you can control the flow of battle itself!
System Requirements
Minimum
OS:

Windows Vista / Windows 7

Storage:

16 GB

Processor:

Dual Core 2.4GHz Processor

Memory:

2 GB

Graphics:

Shader 4.0 Compatible Card

DirectX:

11
Recommended
OS:

Windows 10 64-bit

Storage:

16 GB

Processor:

Quad-core Intel / AMD CPU

Memory:

4 GB

Graphics:

DirectX 11 compatible Nvidia / ATI Radeon HD6870

DirectX:

11