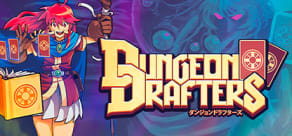 Dungeon Drafters
Available Countries
Argentina
Bahamas
Belize
Bolivia
Brazil
Chile
Colombia
Costa Rica
Ecuador
El Salvador
French Guiana
Guatemala
Guyana
Honduras
Nicaragua
Panama
Paraguay
Peru
Suriname
Uruguay
Venezuela
About the game
As long as you have cards in the deck, the power is in your hands!
Play a young adventurer eager to explore forgotten ruins in this gridded dungeon crawler with rogue-lite elements. Choose your character, create your custom deck of spells, and delve into ancient dungeons on a quest to rid the world of the evil influence of forbidden cards.
Engage in graded combat using your deck to execute incredible combos and devastate the battlefield. Collect rare cards, loot treasure, solve mysteries, then head back to town to prepare your next adventure. Dig deeper and perfect your mighty magic deck that will forever banish evil from the world.
Highlights
Magic Cards - Your cards are your arsenal! Crack the ground in half with earthquakes, hurl fiery balls of fire, and summon powerful allies to defeat your enemies.
Six Characters - Choose an adventurer, receiving a starting signature deck that will guide your playstyle. Regardless of your initial decision, you can diverge and create the deck you want in the future.
Dungeon Exploration - Venture into any of the world's six dungeons. Learn the tricks of regional monsters, face adjustments to your deck, and search for specific cards.
Punitive Death - As you explore the dungeons, you will have the opportunity to continue taking chances or return to the city and guard your treasures. Be careful not to risk too much and lose all your loot!
Elaborate Deck Building - Whether you're a hardcore player looking for the most broken and strongest cards, a scientist who loves to experiment with new ideas and daring combos, or a completionist looking for 100% of the collection, you're sure to find something to love.
City of Adventurers - Prepare for your next adventure as you explore a city full of attractions. Trade cards, buy new ones, open packs, chat with NPCs and accept challenging quests.
System Requirements
Minimum
OS:

Windows 10 or later

Processor:

Core i5 4440 or better

Memory:

4 GB

Graphics:

Nvidia GTX 660 or better
Recommended
Processor:

Ryzen 7 1700 or better

Memory:

8 GB

Graphics:

Nvidia GTX 770 or better
Minimum
OS:

Intel Core i5 4440 or better

Memory:

4 GB

Graphics:

Nvidia GTX 760 or better
Recommended
Processor:

AMD Ryzen 7 1700 or better

Memory:

8 GB

Graphics:

Nvidia GTX 1660 Super or better