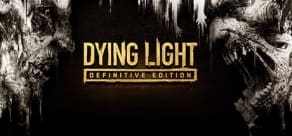 Dying Light Definitive Edition
Available Countries
Antigua & Barbuda
Argentina
Bahamas
Barbados
Belize
Bermuda
Bolivia
Brazil
Chile
Colombia
Costa Rica
Cuba
Dominica
Dominican Republic
Ecuador
El Salvador
Falkland Islands
French Guiana
Grenada
Guatemala
Guyana
Haiti
Honduras
Jamaica
Nicaragua
Panama
Paraguay
Peru
Puerto Rico
South Georgia & South Sandwich Islands
St. Kitts & Nevis
St. Lucia
St. Vincent & Grenadines
Suriname
Uruguay
Venezuela
About the game
Dying Light Definitive Edition includes:
Base game;

Dying Light - 5th Anniversary Bundle;

Dying Light - Classified Operation Bundle;

Dying Light - Crash Test Skin Bundle;

Dying Light - Cuisine & Cargo;

Dying Light - Godfather Bundle;

Dying Light - Gun Psycho Bundle;

Dying Light - Harran Inmate Bundle;

Dying Light - Harran Ranger Bundle;

Dying Light - Harran Tactical Unit Bundle;

Dying Light - Hellraid;

Dying Light - Rais Elite Bundle;

Dying Light - Retrowave Bundle;

Dying Light - Shu Warrior Bundle;

Dying Light - The Bozak Horde;

Dying Light - Ultimate Survivor Bundle;

Dying Light - Viking: Raiders of Harran Bundle;

Dying Light - Vintage Gunslinger Bundle;

Dying Light - Volatile Hunter Bundle;

Dying Light - Volkan Combat Armor Bundle;

Dying Light - White Death Bundle;

Dying Light - Savvy Gamer Bundle

Dying Light - Astronaut Bundle

Dying Light - Van Crane Bundle

Dying Light - Snow Ops Bundle

Dying Light - Dieselpunk Bundle

Dying Light: The Following.
THE GAME:
Dying Light is an action survival game presented in first-person perspective. The game is set in a vast and dangerous open world. During the day, you roam an urban environment devastated by a mysterious epidemic, scavenging for supplies and crafting weapons to help you defeat the hordes of mindless, flesh-hungry enemies the plague has created.
At night, the hunter becomes the prey as the infected grow in strength and aggression - but even more lethal are the nocturnal, inhuman predators that leave their hives to feed. You will need to make use of all your skills and any available means to survive till dawn.
Highlights
Welcome to the Quarantine – Experience an original and intense story set in an infected city cut off from the outside world. Only the fittest have any hope of survival. 
Vast Open World – Dying Light lets you traverse an extensive world plunged into chaos and destruction. In this diverse environment, you fight for survival against many kinds of enemies since the infected are not the only threat: facing down other desperate humans is often the only way to get precious supplies. 
Night Changes the Rules – In daylight you explore the city searching for supplies and weapons. After nightfall, though, this infected world undergoes a dramatic transformation that gives the gameplay a new dimension. You, a hunter by day, become prey. The infected grow in strength, but something even more sinister looms in the darkness to begin its hunt. 
Parkour-Style Movement – Whether you hunt or escape the hunters, you can move around the city with ease and speed. Jump between rooftops, climb walls, and attack your foes from above. Dying Light gives players a freedom of movement never seen in open world games before. 
Brutal, Visceral Combat – Fight face to face using a diverse selection of melee weapons: knives, bats, axes, or more unusual tools of destruction. Strike down your enemies, cut off their limbs, save your own life! 
Firearms – Powerful but noisy. Use pistols, shotguns, and rifles to gain an advantage over enemies, but remember that gunfire can and will attract unwanted attention. 
Craft Your Weapons – Why use an ordinary cleaver when you can attach a lighter for burning damage? Or wrap a hammer in electrified barbed wire? Dying Light lets you create your own weapon upgrades and construct increasingly efficient tools of combat. 
Be the Quarantine Hero – Dying Light features RPG elements that let you develop the protagonist and adjust him to your play style. It's a long and difficult journey from rookie to badass. 
Choose Your Play Style – Make use of weapons, your surroundings, and traps set by other survivors. Provoke groups of enemies to attack each other. Complete objectives by day or at night. Take advantage of darkness, fog, and storm to remain unseen. Turn the odds in your favor with offensive and defensive gadgets. It's always your call! 
Hours of Gameplay – Discover a thrilling story, complete more than a hundred side-quests, and put your skills to the test in special challenges. 
Co-op Mode for 4 Players – Cooperate with other players in the extreme conditions of a zombie apocalypse. Show your individuality and customize your character. 
Be the Zombie – Unique online mode where you play as a zombie. If you ever dreamed of stalking other survivors, now is your chance. Let the hunt begin! 
System Requirements
Minimum
OS:

Windows 7 +

Storage:

40 GB

Processor:

Intel Core i5-2500 [3.3 GHz] / AMD FX-8320 [3.5 GHz]

Memory:

4 GB

Graphics:

NVIDIA GeForce GTX 560 / AMD Radeon HD 6870 [1GB VRAM]

DirectX:

11
Recommended
OS:

Windows 7/8/10 [64-bit]

Storage:

40 GB

Processor:

Intel Core i5-4670K -3.4 GHz / AMD FX-8350 [4.0 GHz ]

Memory:

8 GB

Graphics:

NVIDIA GeForce GTX 780 / AMD Radeon R9 290 [2GB VRAM]

DirectX:

11
Minimum
OS:

macOS Sierra 10.12.1

Storage:

40 GB

Processor:

Intel® Core i5 [3.20GHz]

Memory:

4 GB

Graphics:

AMD Radeon R9 M370X [2GB VRAM]
Recommended
OS:

macOS Sierra 10.12.1

Storage:

40 GB

Processor:

Intel Core i7 [4.00GHz]

Memory:

8 GB

Graphics:

AMD Radeon R9 M395X [4GB VRAM]
Minimum
OS:

Ubuntu 14.04 [64-bit]

Storage:

40 GB

Processor:

Intel Core i5-2500 [3.3 GHz] / AMD FX-8320 [3.5 GHz]

Memory:

4 GB

Graphics:

NVIDIA GeForce GTX 560 / AMD Radeon HD 6870 [1GB VRAM]
Recommended
OS:

Ubuntu 14.04 [64-bit]+

Storage:

40 GB

Processor:

Intel Core i5-4670K 3.4 GHz / AMD FX-8350 [4.0 GHz]

Memory:

8 GB

Graphics:

NVIDIA GeForce GTX 780 / AMD Radeon R9 290 [2GB VRAM]