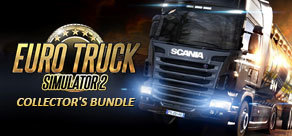 Euro Truck Simulator 2 Collector's Bundle
About the game
Travel across Europe as king of the road, a trucker who delivers important cargo across impressive distances! With dozens of cities to explore from the UK, Belgium, Germany, Italy, the Netherlands, Poland, and many more, your endurance, skill and speed will all be pushed to their limits.
Highlights
Transport a wide variety of cargoes in more than 60 European cities. Run your own business, which continues to grow as you complete your deliveries of charges.
Build your own fleet of trucks, buy garages, hire drivers, manage your business to generate maximum profits.
A lot of trucks with various performances and varied cosmetic items
Customize your vehicles with optional lights, bars, horns, beacons, pullers, and more.
Thousands of miles of real road networks, with hundreds of monuments and famous structures.
Over 20 hours of driving to explore all new areas of the game
13 new cities including Warsaw, Krakow, Ostrava, Budapest, Kosice and more
Many miles of challenging and narrow roadways with mountain passes and roads under repair to test your driving skills
Join the online community of World of Trucks, the virtual center for truckers and everyone interested in Euro Truck Simulator 2 and future truck simulators from SCS Software.
Click the link to join World of Trucks.
Bonus content
This special version of Euro Truck Simulator 2 contains:
Euro Truck Simulator 2
Euro Truck Simulator 2: Going East
Euro Truck Simulator 2: Force of Nature Paint Jobs Pack
Euro Truck Simulator 2: Ice Cold Paint Jobs Pack
Euro Truck Simulator 2: Halloween Paint Jobs Pack
Euro Truck Simulator
Scania Truck Driving Simulator
Trucks & Trailers
Bus Driver
System Requirements
Minimum
OS:

Windows XP

Storage:

2 GB

Processor:

Dual Core 2.0GHz

Memory:

2 GB

Graphics:

GeForce 7600 GT

DirectX:

9.0c
Recommended
OS:

Windows 7 +

Storage:

4 GB

Processor:

Quad Core 3.0GHz

Memory:

4 GB

Graphics:

GeForce GTS 450

DirectX:

10
Minimum
OS:

Mac OS X 10.9 (Mavericks)

Storage:

3 GB

Processor:

Dual core CPU 2.4 GHz

Memory:

Dual core CPU 2.4 GHz

Graphics:

GeForce GTS 450-class (Intel HD 4000)
Recommended
OS:

Mac OS X 10.10 (Yosemite)

Storage:

3 GB

Processor:

Quad core CPU 3.0 GHz

Memory:

6 GB

Graphics:

GeForce GTX 760-class (Intel HD 5300)
Minimum
OS:

Linux Ubuntu 12.04

Storage:

3 GB

Processor:

Dual core CPU 2.4 GHz

Memory:

4 GB

Graphics:

GeForce GTS 450-class (Intel HD 4000)
Recommended
OS:

Linux Ubuntu 12.04

Storage:

3 GB

Processor:

Quad core CPU 3.0 GHz

Memory:

6 GB

Graphics:

GeForce GTX 760-class (2 GB)