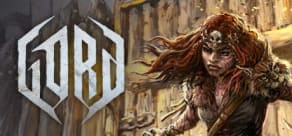 Gord
Available Countries
Argentina
Bolivia
Brazil
Chile
Colombia
Costa Rica
Cuba
Dominican Republic
Ecuador
El Salvador
French Guiana
Guatemala
Guyana
Honduras
Mexico
Nicaragua
Panama
Paraguay
Peru
Puerto Rico
Suriname
Uruguay
Venezuela
About the game
Gord is a single-player adventure strategy. To survive, you must build, but to prevail, you must conquer the darkness beyond the gates. In this dark fantasy world, you must complete quests while managing a populace whose personal stories and well-being decide the fate of your tribe.
Highlights
STRATEGIC ADVENTURE IN A DARK FANTASY SETTING - Lead the people of the Tribe of Dawn on their adventure through the forbidden lands. Accomplish missions that shape your personalities, impact your well-being, and decide the fate of your community. Ensure the survival of your people in a dark fantasy world inspired by Slavic folklore.
A UNIQUE CITY BUILDER WITH SURVIVAL ELEMENTS - Erect palisades, develop structures and expand your gord from a modest settlement to a formidable stronghold. But the expansion will not be easy! Your people are under constant threat from neighboring tribes, terrible monsters and mysterious powers that lurk in the surrounding woods.
WIDE VARIETY OF QUESTS - Gord's versatile quests will have you venturing beyond your colonies, whether it's to avert catastrophes or take care of the personal affairs of one of your subjects. Main Scenario objectives will guide your journey, while side quests and random encounters will have you heading deep into the wilds in search of legendary creatures, discovering the secrets of the Ancients or eradicating a horrific plague. Expect the unexpected.
CUSTOM SCENARIOS WITH PROCEDURAL GENERATION - Prepare the ground by choosing from a wide selection of Scenario options, and try to emerge victorious. Take it easy or issue an impossible challenge; almost everything can be adjusted! Choose from a variety of primary objectives, select the size of the stage, the intensity of the raids, the game environment, the types of enemies you will face, the starting resources and even the severity of the weather. Of course, don't forget the Horrors.
SIGNIFICANT SANITY SYSTEMS - On Gord, happy people are the key to survival. Every aspect of your colonists' lives, from illness, starvation, and the death of relatives, can have an influence on each subject's sanity levels. Watch them closely, as when one of their sanity reaches a critical level, they will either collapse or even run away from your grasp.
AWAKEN POWERFUL ENCHANTMENTS - Please the Gods with your prayers and they may grant you access to their sorcery abilities. The nature of Enchantments varies: some are offensive, while others are defensive. But they all help tilt the battlefield in your favor. Hide areas from your enemies, gain control over menacing beasts, or unleash unholy rage on all who oppose you.
UNVEIL THE MYSTERIES OF THE WORLD IN THE CHRONICLE - The Chronicle develops the story of the universe of Gord, which mixes Slavic mythology with dark fantasy. Torn pages of the Chronicle will be scattered across the landscapes, offering dedicated players an added challenge of discovery. Collecting as many pages as possible will expand knowledge about the origins of the Gods, ancient factions, and the mysterious Whisperers.
System Requirements
Minimum
OS:

Windows 10 64-bit

Storage:

20 GB

Processor:

Intel Core i5-6600 or AMD Ryzen 5 1600

Memory:

8 GB

Graphics:

NVIDIA GeForce GTX 960/ 4 GB or AMD Radeon R9 380/ 4 GB

DirectX:

11
Recommended
OS:

Windows 10 64-bit

Storage:

20 GB

Processor:

Intel Core i7-9700K or AMD Ryzen 5 7600X

Memory:

16 GB

Graphics:

NVIDIA GeForce GTX 1080/ 8 GB or AMD Radeon RX 5700 XT/ 8 GB

DirectX:

11