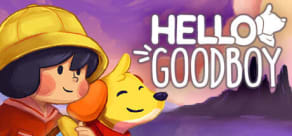 Hello Goodboy
Available Countries
Antigua & Barbuda
Argentina
Bahamas
Barbados
Belize
Bermuda
Bolivia
Brazil
Chile
Colombia
Costa Rica
Cuba
Dominica
Dominican Republic
Ecuador
El Salvador
Falkland Islands
French Guiana
Grenada
Guatemala
Guyana
Haiti
Honduras
Jamaica
Mexico
Nicaragua
Panama
Paraguay
Peru
Puerto Rico
South Georgia & South Sandwich Islands
St. Kitts & Nevis
St. Lucia
St. Vincent & Grenadines
Suriname
Uruguay
Venezuela
About the game
Hello Goodboy is a heartwarming, wholesome adventure featuring Iko, a boy new to the afterlife. With no memory of what brought him to the world beyond, he must rely on Coco, a strangely familiar dog who will help him solve the mysteries of this new existence.

Journey through unknown, yet familiar places, meeting fellow souls on their own adventures through the afterlife. Pay it forward with generous favors for them and try to figure out just why Iko landed in the land beyond to begin with. However, mind the time: there's only so much of it!
A Wholesome Experience
Craft a personal fairy tale atmosphere and a heartwarming story, as Iko and Coco make their way through the afterlife.
Unravel mysteries and collect bundles of joy
Give endless bellyrubs to Coco along the way!


Cast of Unique Characters
Befriend the dozens of denizens in the afterlife like a lonely child, an anxious couple, an overworked lumberjack, and more.
Everyone has a story to tell and a task Iko can help with.
After you help them through their problems, break out the comfort food and relax together.

Series of Meaningful Choices

But you only have so much time. Decide who you spend time with, as visiting some will prevent you from making relationships with others, and discover how your choices will affect Iko's story through multiple endings.
 
A Good Boy
 
Coco is the closest friend in the afterlife anyone could ask for - also the best of boys!
His nose combined with Iko's fixing skills will be key to discovering the metaphysical mysteries found around the world beyond.
Pamper him with bellyrubs and playing with toys to keep his "Goodboy-o-meter" fulfilled.
System Requirements
Minimum
OS:

Windows

Storage:

2 GB

Processor:

Intel i5 Quad-Core

Memory:

4 GB

Graphics:

Intel HD 4000

DirectX:

9
Recommended
OS:

Windows

Storage:

3 GB

Processor:

Intel i5 Quad-Core

Memory:

4 GB

Graphics:

GeForce 780 ou equivalente

DirectX:

9