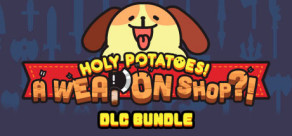 Holy Potatoes! A Weapon Shop?! - DLC Bundle
Available Countries
Antigua & Barbuda
Argentina
Bahamas
Barbados
Belize
Bermuda
Bolivia
Brazil
Chile
Colombia
Costa Rica
Cuba
Dominica
Dominican Republic
Ecuador
El Salvador
Falkland Islands
French Guiana
Grenada
Guatemala
Guyana
Haiti
Honduras
Jamaica
Mexico
Nicaragua
Panama
Paraguay
Peru
Puerto Rico
South Georgia & South Sandwich Islands
St. Kitts & Nevis
St. Lucia
St. Vincent & Grenadines
Suriname
Uruguay
Venezuela
About the game
Explore the world of Holy Potatoes! in this pack you get the following content: game Base Holy Potatoes! A Weapon Shop?! + a DLC The Holy Potatoes! A Weapon Shop?! - Spud Tales: Journey To Olympus!
Holy Potatoes! A Weapon Shop?! is a wacky simulation game where you manage your very own weapon shop and expand its business across an incredible potato world. Use your potato smiths to forge weapons and sell them to questing heroes. You will meet more than 70 potato heroes, forge more than 200 weapons, expand your business into 20 wacky areas, manage 30 zany potato smiths, discover 10 legendary pop culture heroes... and even adopt a potato dog!
Inspired by games such as Game Dev Story, Weapon Shop De Omasse and Recettear: An Item Shop's Tale, Holy Potatoes! A Weapon Shop?! is designed to provide an exciting new gameplay experience to fans of this emerging game genre. The game score is composed by the legendary Kimura Masahiko​, who worked on the original score for the Genso Suikoden Series and the Castlevania Series.
Highlights
The Holy Potatoes! A Weapon Shop?! - Spud Tales: Journey To Olympus DLC brings you the very first Spud Tales scenario called Journey To Olympus. Help Herclueless - Zeus' demigod son - forge a weapon worthy of a God, and help him return to Olympus! Additionally, this DLC includes supplementary bonus content, which will be added to the main story line!
Research and forge hundreds of weapons;
Manage and train 30 potato smiths;
Sell weapons to questing heroes and build customer loyalty to learn more about these adorable potato people;
Encounter random events and weather conditions;
Explore the potato world for materials, relics and enchantments;
Customize and enhance workshop equipment;
Forge unique weapons for legendary pop culture heroes
Encounter 5 new legendary heroes and meet their outlandish requests!
Sell preposterous weapons to 6 new mythical heroes!
Forge 3 new Legendary Weapons!
Explore 3 new intriguing areas!
Bonus content
Alongside Spud Tales, this DLC also includes bonus content that is added to the main story line:
2 new Legendary Heroes and their outrageous requests will be added. Are your smiths powerful enough to forge the Legendary weapons for these alluring Heroes?
You will be able to hire 2 new Smiths to add them to your already impressive arsenal of henchmen! Save up your $tarch and hire them pronto!
You will be able to Forge 4 new Researchable Weapons!
System Requirements
Minimum
OS:

XP / Vista / 7 +

Storage:

3 GB

Processor:

Intel 2 GHz

Memory:

2 GB

Graphics:

1280 x 720 +

DirectX:

9.0
Minimum
OS:

Mac OS X 10.6 +

Storage:

3 GB

Processor:

Intel 2 GHz

Memory:

2 GB

Graphics:

1280 x 720
Minimum
OS:

Ubuntu 14.04 LTS

Storage:

2 GB

Processor:

Intel 2 GHz

Memory:

2 GB

Graphics:

1280 x 720