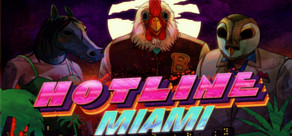 Hotline Miami
Available Countries
Antigua & Barbuda
Argentina
Bahamas
Barbados
Belize
Bermuda
Bolivia
Brazil
Chile
Colombia
Costa Rica
Cuba
Dominica
Dominican Republic
Ecuador
El Salvador
Falkland Islands
French Guiana
Grenada
Guatemala
Guyana
Haiti
Honduras
Jamaica
Mexico
Nicaragua
Panama
Paraguay
Peru
Puerto Rico
South Georgia & South Sandwich Islands
St. Kitts & Nevis
St. Lucia
St. Vincent & Grenadines
Suriname
Uruguay
Venezuela
About the game
Hotline Miami is an action game loaded with brutal action, heavy shooting and rolling heads. Set in a 1989 alternative Miami, you'll take on the role of a mysterious antihero in a murderous rage against the shadowy underworld guided by your answering machine's voices.
Soon you will find yourself struggling for your control and understanding why you are prone to these acts of violence. Rely on your intelligence to demarcate your way through seemingly impossible situations while you constantly find yourself at a disadvantage among fierce enemies. The action is relentless and every shot is deadly so each move has to be quick and decisive if you want to survive and unravel the evil forces that drive the bloodshed.
The unmistakable visual style of Hotline Miami, plus an engaging soundtrack and a chain of surreal events will take you to the answer to your bloodlust while taking you to the limits of a relentless challenge.
Highlights
Amazing shootouts in neon corridors stained with blood combined with intense and immense soundtrack;
A surreal and brave story in 20 maps;
Amazing battles against a bizarre cast of bosses from Miami's underworld;
35 different weapons: from shotguns and assault rifles to katanas and pipes;
More than 1,000 sprites for a fantastic variety of environments, weapons, elements and enemies;
25 masks of animais to unlock that will hide your identity;
Engaging beats by Sun Araw, Coconuts, M.O.O.N., Jasper Byrne, The Huervo, Perturbator, Scattle, Elliott Berlin and Eirik Suhrke
Extremely difficult achievements that will test your limits.
System Requirements
Minimum
OS:

Windows XP, Vista e 7

Storage:

250 MB

Processor:

1.2 GHz

Memory:

512 MB

Graphics:

DirectX (32MB)

DirectX:

9.0
Recommended
OS:

Microsoft® Windows® XP / Vista / 7

Storage:

250 MB

Processor:

1.4GHz +

Memory:

1 GB

Graphics:

DirectX (32MB)

DirectX:

9.0
Minimum
OS:

Mac OS 10.6+

Storage:

130 MB

Processor:

2.4 GHz Intel Core 2 Duo +

Memory:

1 GB
Recommended
OS:

Mac OS 10.6+

Storage:

130 MB

Processor:

2.8 GHz Intel Core 2 Duo +

Memory:

2 GB
Minimum
Storage:

130 MB

Processor:

1.8 GHz Dual-Core

Memory:

512 MB