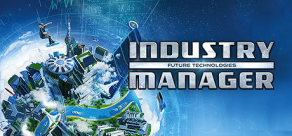 INDUSTRY MANAGER: Future Technologies
Available Countries
Antigua & Barbuda
Argentina
Bahamas
Barbados
Belize
Bermuda
Bolivia
Brazil
Chile
Colombia
Costa Rica
Cuba
Dominica
Dominican Republic
Ecuador
El Salvador
Falkland Islands
French Guiana
Grenada
Guatemala
Guyana
Haiti
Honduras
Jamaica
Mexico
Nicaragua
Panama
Paraguay
Peru
Puerto Rico
South Georgia & South Sandwich Islands
St. Kitts & Nevis
St. Lucia
St. Vincent & Grenadines
Suriname
Trinidad & Tobago
Uruguay
Venezuela
About the game
Have you always dreamed of building your own empire and raking in the big money? The world is changing fast and a second industrial revolution is right around the corner. Economy is changing from an industrial one into a technological-driven one and you can't be left behind. INDUSTRY MANAGER: Future Technologies is a classic economy simulation in which you can build your own empire, research new sustainable products, and sweep aside the competition on your way to fame and success. Take a market-oriented approach to design, produce, position and sell modern products. With limited liquid capital and an eye for the right product range, you can become the most successful capitalist in the world! 
INDUSTRY MANAGER: Future Technologies focuses on a sophisticated single-player experience, offering you a complex economic system. Your aim: To build a profitable empire by expanding your product range and researching new products, thereby outsmarting your competitors. But your mission won't be easy! Among other things, you'll have to consider the global market when expanding your production pipeline. Build your empire on the laws of supply and demand, market your products based on their best qualities and sell them in different markets. 
You'll need to build your production chain as economically as possible, based on market research and the availability of resources, in order to develop and distribute goods with maximum efficiency. By researching new production technologies and product innovations you'll be able to improve and advance your consumer goods. Always keep an eye on your competitors as they also have their own agendas and will influence the dynamic market as well as supply and demand. Develop completely new, customizable products such as the energy-efficient airplane, a digital computer watch or an exclusive bicycle with three wheels.
INDUSTRY MANAGER: Future Technologies offers an intuitive user interface perfect for beginners, but also a range of configuration options to delight advanced players too. INDUSTRY MANAGER: Future Technologies is a sandbox economy simulation with a vibrant economic system, complete with supply and demand. The economy doesn't stand still, but is influenced by all your actions and those of your opponents. Sell your products locally in your stores or globally on the world market. Later in the game you can also buy and sell stocks on the stock market and take over your opponents' companies.
Highlights
Sandbox gameplay: You have full decision-making power 
Build your own business empire 
Over 200 different products & resources 
Located in a modern setting 
Research new technologies for production and products to become the innovator of your own company 
Compete with and outsmart AI opponents 
Complex economic system, based on supply and demand 
Buy stocks in your competitors' companies on the stock market and take them over
System Requirements
Minimum
OS:

Windows Vista/7/8/10

Storage:

3 GB

Processor:

Dual-Core Processor - 2.4 GHz

Memory:

4 GB

Graphics:

GeForce 400 Series | ATI Radeon HD 57xx

DirectX:

9.0
Recommended
OS:

Windows Vista/7/8/10

Storage:

3 GB

Processor:

Dual or Quad-Core Processor - 3 GHz

Memory:

6 GB

Graphics:

GeForce GTX 660 | ATI Radeon HD 68xx, 77xx

DirectX:

9.0
Minimum
OS:

Mac OS X 10.8

Storage:

3 GB

Processor:

Dual-Core Intel Core i5 - 2,7 GHz

Memory:

4 GB

Graphics:

Intel Iris Pro 5200
Recommended
OS:

Mac OS X 10.8

Storage:

3 GB

Processor:

Dual-Core Intel Core i5, 3.4 GHz

Memory:

6 GB

Graphics:

Intel Iris Graphics 6100, NVIDIA GeForce GTX 750M