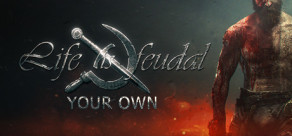 Life is Feudal - Your Own
Available Countries
Antigua & Barbuda
Argentina
Bahamas
Barbados
Belize
Bermuda
Bolivia
Brazil
Chile
Colombia
Costa Rica
Cuba
Dominica
Dominican Republic
Ecuador
El Salvador
Falkland Islands
French Guiana
Grenada
Guatemala
Guyana
Haiti
Honduras
Jamaica
Mexico
Nicaragua
Panama
Paraguay
Peru
Puerto Rico
South Georgia & South Sandwich Islands
St. Kitts & Nevis
St. Lucia
St. Vincent & Grenadines
Suriname
Trinidad & Tobago
Uruguay
Venezuela
About the game
"Life is Feudal: Your Own" (LiF:YO) is a medieval life simulator for 64 players on a 3km x 3km gameworld. It places you in a realistic medieval setting with the ability to host your own private world and set your own rules. This world has free terraforming and building features. You can build your own house anywhere in the world! Team up with your friends and build a village or city and repel attacks by other players who want to steal your lands and slaughter your cattle! A good castle with tall city walls might help you protect yourselves and your precious valuables.
Included in your purchase, all Life is Feudal:YO owners will receive one character to gain full access to early mmo testing in Q2 2016, and the full massively multiplayer game - Life is Feudal:MMO once released. 
The combat system in our game is quite unique; it is a non-target and physics-based combat system. The direction of your attack depends on mouse movement. Basic movements combined with directional attacks can be mixed together to create deadly combos with special harmful effects. Battle formations are a new way to collaborate and control the situation on the battlefield with your fighting team. Depending on the battle situation, a group leader must issue the right commands to manage formations during a battle. The more group members that make up a given formation, the bigger the advantages they enjoy. A well organized group will always prevail over a bunch of chickens with their heads cut off. 
True use of sandbox mechanics and not just the "sandbox" label being applied to the game. A great example is that player skill progression is not limited by artificial classes or roles. The Skill cap and Stat cap systems allow you to design a character, which fits your style of play perfectly. The crafting system contains a lot of sand and boxes too. :) An excellent example is how alchemy works almost the same way as it did in TES:Oblivion. The wikipedia and your friends won't be able to help you because all the recipes are randomized for each character and the only way to learn them all is by experimentation. 
Farming will demand a sound understanding of different crops, soil fertilization and knowledge regarding when to plant or harvest your crops according to the current weather. An example of farming knowledge is knowing your crop fertilizer comes from your stables and barns, which you need to manage and clean in order to breed the best war horses on the continent! You will also need to feed and tend your other livestock as well. 
Food is very important for character development and skill progression. The higher the quality and complexity of your meal, the faster you will progress through your skills. This places a cook on the same level of importance as other craftspeople such as blacksmiths, carpenters or alchemists.
Highlights
Free Terraforming & Tunnel Building: 100% free terraforming and tunnel building! Dig tunnels, mines and moats and expand them in all dimensions almost without limit! You can raise and lower ground levels with a landfall effect. Substances include soil, rock, granite, ore veins, clay, sand, and much more! 
Battle Formation System: In massive battles you can react accordingly to the combat situation and provide your unit with certain bonuses, but to receive these bonuses, unit members must be well organized and always stay inside the formation shape. 
Unlimited Number of Unique Alchemy Combinations: There are over 40,000,000 alchemy combinations unique to each player! Unlike other online games, you need to learn, experiment and create your very own unique combinations. Alchemy is not simply a matter of character skill as it strongly emphasises spending time and resources on creating good recipes and combinations. 
Complex Food & Cooking System: Cooking is no longer a secondary or non-existent skill. Being a good cook that knows many complex and tasty recipes means that you and your friends will be better fed and will receive skill bonuses! 
Realistic Player Damage System: Based on human anatomy with fractures and bleeding wounds you can create unique and deadly combat tactics. 
Double Health & Stamina Bars: Double health and stamina bars represent better information about the status of your body. Players can be knocked unconscious or killed. They can also be temporarily out of breath or totally exhausted.
System Requirements
Minimum
OS:

Windows 7 +

Storage:

5 GB

Processor:

Intel® Core i5 / AMD Phenom II X4 with [2,5 GHz]

Memory:

4 GB

Graphics:

GeForce 460/Radeon HD 5850 / Intel HD 4600 [1024 MB]

DirectX:

11
Recommended
OS:

Windows 7 +

Storage:

10 GB

Processor:

Intel® Core™ i7 / AMD Phenom II X6 [3,5 GHz]

Memory:

8 GB

Graphics:

GeForce 660 / Radeon HD 6970

DirectX:

11