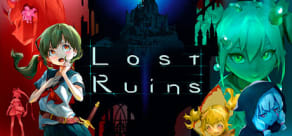 Lost Ruins
Available Countries
Argentina
Bahamas
Belize
Bolivia
Brazil
Chile
Colombia
Costa Rica
Ecuador
El Salvador
French Guiana
Guatemala
Guyana
Honduras
Nicaragua
Panama
Paraguay
Peru
Suriname
Uruguay
Venezuela
About the game
Lost Ruins is a 2D side-scrolling action and survival game in which you control a young woman who woke up in a strange and unfamiliar place without her memory. Explore a dark and dangerous world, and fight against horrifying monsters and incredible bosses.
A young girl wakes up in a dimly lit dungeon with no memory at all. Surrounded by terrible and bloodthirsty monsters, the girl is rescued by the sorceress Beatrice. With Beatrice's help, the young girl embarks on a dangerous journey to find answers and unravel the secrets of the Lost Ruins.
Highlights
Combat: Combat in Lost Ruins can be strategic and methodical. Slice enemies, burn them to a crisp, or even reflect their projectiles back at them. Arm yourself with a variety of swords, axes, and other medieval weapons and cut monsters into pieces. For those who enjoy magic, in Lost Ruins, you can cast a variety of spells using wands, tonics, and scrolls. Burn monsters, freeze bosses, and heal yourself when in danger. Choose what works for your playstyle and create a magical character that suits you.
Equipping Yourself: The world of Lost Ruins is dangerous, and being armed to the teeth with incredible weapons is sometimes not enough. That's where accessories come in. Accessories are unique pieces of equipment with all kinds of effects. One accessory may protect you against fire, while another may heal you when poisoned. The right combination of accessories can open up a world of strategic options for your adventure.
Using the Environment: As you explore the depths of the dark dungeons in Lost Ruins, you will discover that while everything around you can cause your death, you can also use the environment to your advantage. The elements in this world will react with other elements realistically. Flammable liquids will ignite when in contact with lit lanterns. Ice magic will freeze bodies of water, making them dangerously cold. The more you understand the environment and how to use it to your advantage, the more dangerous you will become.
System Requirements
Minimum
OS:

Windows 7

Storage:

600 MB

Processor:

1.6 GHz

Memory:

2 GB

Graphics:

512MB

DirectX:

11
Recommended
OS:

Windows 7

Storage:

1 GB

Processor:

2 GHz

Memory:

4 GB

Graphics:

1 GB

DirectX:

11
Minimum
Storage:

600 MB

Memory:

2 GB
Recommended
Storage:

1 GB

Memory:

4 GB
Minimum
Storage:

600 MB

Memory:

2 GB

Graphics:

512MB
Recommended
Storage:

1 GB

Memory:

4 GB

Graphics:

1 GB