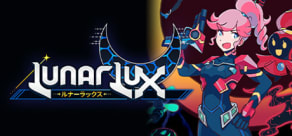 LunarLux
Available Countries
Antigua & Barbuda
Argentina
Bahamas
Barbados
Belize
Bermuda
Bolivia
Brazil
Chile
Colombia
Costa Rica
Cuba
Dominica
Dominican Republic
Ecuador
El Salvador
Falkland Islands
French Guiana
Grenada
Guatemala
Guyana
Haiti
Honduras
Jamaica
Mexico
Nicaragua
Panama
Paraguay
Peru
Puerto Rico
South Georgia & South Sandwich Islands
St. Kitts & Nevis
St. Lucia
St. Vincent & Grenadines
Suriname
Uruguay
Venezuela
About the game
LunarLux is an action-adventure RPG inspired by animes set on the Moon! A thousand years ago, humanity lived on the planet known as Earth, which today is a volcanic and desert landscape. Due to the planetary catastrophe, ASTRA, humans were called to find a new home. Unfortunately, there were no habitable planets within a reasonable distance, so the remaining survivors went to Luna, the moon that orbits Earth.
Full of hope, dreams and determination, humanity continues to survive and thrive in a new home. Centuries later, in the year 30XX, Luna became home to some of the most detailed human minds to ever exist (and their creations). However, now humanity's existence is threatened by an approaching antimatter comet... The same comet that wiped out the people of Earth a thousand years ago!
Join lunar warrior Bella in her fight for the Moon to find a way to destroy the comet before it starts life like encounters! Face mysterious monsters known as Murks using a hybrid turn-based and action battle system, discover the secrets of a lost civilization and save the Moon!
Highlights
EXPLORE THE LUNA!
Grab your gear and head towards the lunar landscape. Enjoy a drive through the lunar landscape or fly and zip around the maps in your Jet Suit! You can also fly to different locations on Luna with your own customizable spaceship!
LunarLux also mixes real-world scientific theories with science fiction concepts to explore the many ways humanity can live on the Moon!
In LunarLux, you can interact with almost EVERYTHING! Make friends with the local rocks (yes, that's what you read), enjoy hidden surprises and references, pet dogs 20 times for exclusive dialogue and interactions, dive into every trash can for hidden items, and much more!

FREE YOUR LUX!
To explore the lunar landscape, you'll need more than just a good eye and patience for clicking. In LunarLux's unique turn-based battle system and action: timing is just as important as choosing your attacks!
Get up to 40 active skills and 30 support skills, with their own unique mechanics to master!
Unleash powerful attacks known as Combo Lux, combining and stacking active and support skills to create thousands of possible combinations! When your Lux meter is full in battle, you can perform a Lux Combo by choosing ANY 3 active skills to add! Adding 3 of the same ability usually results in a unique combo, but more powerful attacks require more specific combinations. All of them can be found through recipe items while exploring the Moon!
Up to 30 unique combos can be performed!

SAVE THE LUNA!
Complete missions with your trusty robot companion, Tetra! Tetra will be able to DIVE into malfunctioning networks (via control panels) to help Bella during missions! Each network will be distinctly different from the others, with its own mini-game challenges to overcome! Each network is rendered in a beautiful 8-bit retro style; a perfect aesthetic for a resource that involves the invasion of computers and the digital world!
Experience a story-rich storyline full of twists and turns! In addition to being tasked with stopping the comet and fighting the Murks, you also have to face strong rivals, such as the Murk Killer, a ruthless treasure hunter who distrusts authority and seeks justice for the corruption and crimes committed against him.
There is a conspiracy afoot and a mystery to be solved! Will Bella and Tetra be able to find the real villain hiding in the shadows?
Science and knowledge... are the supreme power! Soon, humanity will witness the infinite potential of the strongest cosmic energy in the universe: Antimatter! In LunarLux, "The power of science is astronomical!"
System Requirements
Minimum
OS:

Windows 7

Storage:

1 GB

Processor:

32/64bit compatible Dual Core CPU

Memory:

1 GB

Graphics:

1 GB

DirectX:

11
Recommended
OS:

Windows 7

Storage:

1 GB

Processor:

32/64bit compatible Dual Core CPU

Memory:

2 GB

Graphics:

1 GB

DirectX:

11