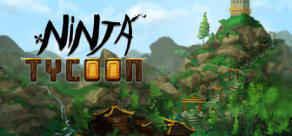 Ninja Tycoon
Available Countries
Antigua & Barbuda
Argentina
Bahamas
Barbados
Belize
Bermuda
Bolivia
Brazil
Chile
Colombia
Costa Rica
Cuba
Dominica
Dominican Republic
Ecuador
El Salvador
Falkland Islands
French Guiana
Grenada
Guatemala
Guyana
Haiti
Honduras
Jamaica
Mexico
Nicaragua
Panama
Paraguay
Peru
Puerto Rico
South Georgia & South Sandwich Islands
St. Kitts & Nevis
St. Lucia
St. Vincent & Grenadines
Suriname
Trinidad & Tobago
Uruguay
Venezuela
About the game
In Ninja Tycoon, you manage a Ninja Village with the goal to grow your base and your army so you can Assassinate the local Clan Leaders and take over the world!
 
Highlights
Build up your village by hiring Workers to gather goods and craft equipment.
Recruit Ninjas and send them on increasingly difficult and profitable missions.
Train them in Stealth, Attack, Support and Agility.
Defend your base from attacking raiders.
Complete missions and take over the world!
System Requirements
Minimum
OS:

Windows XP

Storage:

1 GB

Processor:

1.7Ghz Core 2 Duo

Memory:

1 GB

Graphics:

Radeon 4850
Minimum
OS:

Mac OS X 10.5

Storage:

1 GB

Processor:

1.7Ghz Core 2 Duo

Memory:

1 GB

Graphics:

Radeon 4850
Minimum
OS:

Ubuntu Linux 10.10 +

Storage:

1 GB

Processor:

1.7Ghz Core 2 Duo

Memory:

1 GB

Graphics:

Radeon 4850