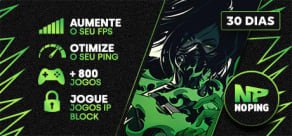 NoPing - 30 days
Available Countries
Antigua & Barbuda
Argentina
Bahamas
Barbados
Belize
Bermuda
Bolivia
Brazil
Chile
Costa Rica
Cuba
Dominica
Dominican Republic
Ecuador
El Salvador
Falkland Islands
French Guiana
Grenada
Guatemala
Guyana
Haiti
Honduras
Jamaica
Mexico
Nicaragua
Panama
Paraguay
Peru
Puerto Rico
South Georgia & South Sandwich Islands
St. Kitts & Nevis
St. Lucia
St. Vincent & Grenadines
Suriname
Uruguay
Venezuela
About the game
How about reducing MS by up to 80% in online games? Play every game, from anywhere in the world as if you were next to the game server! Play online games with American and European MS! NOPING is the ideal solution for players who want to get the most out of their online games, whether they are casual or competitive players.
NOPING is a Gaming Booster, a program that uses solutions to improve the performance of your internet and computer. Working with the most modern technology on the market, NOPING not only brings a solution, it improves your entire gaming experience with 4 unique systems: LOWER PING reducing up to 80% of your MS, the latency of your online games, BOOST FPS optimizing performance and increasing your FPS, IPBLOCK overcoming IP BLOCK on any server around the world and TURBO GAMING improving the response of your commands in games.
Support for over 1000 games in more than 300 servers around the world.
Highlights
MS REDUCTION
The most important indicator in an online game is the MS. The MS represents the time it takes for your commands to get from your computer to the game server. The shorter the time, the faster your actions happen. But the further away the player is from the server, the worse the MS. That is why Brazilian players suffer so much in online games, but NOPING is here to end these problems.
With NOPING the player has a direct route to his game. Your provider makes your commands take many turns to reach the game server. NOPING has a shorter and more direct path, reducing up to 80% without MS in online games.
In NOPING you have a special route, that only NOPING users use, and you don't need to compete with all your provider users to play your games, reducing packet loss and disconnects.
FPS BOOST
FPS, frame per second, is very important for all kinds of games, from MMOs to action games. But in most cases you need a very expensive video card to improve your FPS, but not with NOPING.
NOPING uses a unique technology that optimizes your computer for the game you are playing. NOPING will focus all graphics, processing and memory resources to the game, freeing up resources to make games even better. With this it can increase your games by up to 30 FPS, both online and offline.
You can use these features even in games that are offline.
IP BLOCK
Every day new games are released all over the world, but many times these games have location restrictions, you need to be in the right country to be able to play. But not with NOPING! With NOPING you can play any game in our system, in any country that it is available, even with IP BLOCK.
Often the original version of the game in Asia or Europe is more up to date, has more content, the news arrive first there and take months to reach the national version, but you can not play this version. Now you can, with NOPING! Play any version of your favorite MMOs and don't wait for it to be released in your country, without needing any additional software, additional account! NOPING allows you to play online games with IPBLOCK in any region of the world, without any additional cost.
TURBO GAMING
NOPING's newest improvement. NOPING already improves your route, already increases your FPS, but still brings other improvements to your games. TURBO GAMING is a new function that speeds up the response time of your commands on the computer. It makes every time you click on a key, the response to the computer and server is even faster.
System Requirements
Minimum
OS:

Windows 7 +

Memory:

512 MB
Recommended
OS:

Windows 7 +

Memory:

512 MB