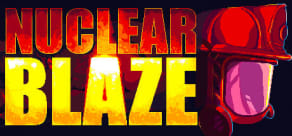 Nuclear Blaze
Available Countries
Antigua & Barbuda
Argentina
Bahamas
Barbados
Belize
Bermuda
Bolivia
Brazil
Chile
Colombia
Costa Rica
Cuba
Dominica
Dominican Republic
Ecuador
El Salvador
Falkland Islands
French Guiana
Grenada
Guatemala
Guyana
Haiti
Honduras
Jamaica
Mexico
Nicaragua
Panama
Paraguay
Peru
Puerto Rico
South Georgia & South Sandwich Islands
St. Kitts & Nevis
St. Lucia
St. Vincent & Grenadines
Suriname
Uruguay
Venezuela
About the game
The world is burning.
Well, not really, but the whole region is.
As a trained firefighter, you will be thrown straight into the middle of these hellish flames to investigate and search for survivors. But the unexpected presence of an unknown military installation can somehow affect your plans.
Highlights
A unique 2D firefighting game with all the devastating explosive ignition, exploding walls and fire extinguishers you could hope for.
Lightly "signature" controls and gameplay made by the guy behind Dead Cells.
An action/adventure game created with love and attention to detail.
Use your fire hose carefully to keep the flames under control and progress through the installation.
Dedicated "Kids Mode" designed for young kids (~3 years old and up), designed with specific levels, rules and gameplay... while still featuring firefighters, helicopters and trucks!
This time it won't be a roguelite/like/vania!
Kids Mode is a special game mode designed with young players in mind, featuring the following specific rules:
Specific levels that were made to be explored with ease,
You cannot die,
The water is infinite,
The water is aimed automatically,
Controls are simplified,
Helicopters and planes everywhere, because the kids love them.