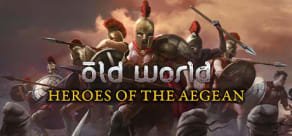 Old World - Heroes of the Aegean
Available Countries
Argentina
Bahamas
Belize
Bolivia
Brazil
Chile
Colombia
Costa Rica
Ecuador
El Salvador
French Guiana
Guatemala
Guyana
Honduras
Nicaragua
Panama
Paraguay
Peru
Suriname
Uruguay
Venezuela
About the game
Old World - Heroes of the Aegean will give you or control two of the greatest leaders and warriors of Ancient Greece. Let Athens win in the Battle of Marathon, defend Greece from a Persian invasion like Leonidas and his 300 Spartans and conquer the Hellenic world like Alexandre himself, or the Great in a series of stages during a period of nearly 200 years of classical history .
Heroes of the Aegean includes six historical scenarios for free, each with its own characters and unique objectives:
Highlights
Defeat the First Persian Invasion - Lead Athens against the Persian army of Darius I and relive famous historical events such as Pheidippides' race to Sparta and the decisive Battle of Marathon.
Defend Greece in an evolution of scenarios whose performance will count - Resist the army of Xerxes or as much as you can as Leonidas in the Battle of Thermopylae, face the Persian navy in the Battle of Salamis and drive off the inimitable invaders during the End of Plataea battle .
Macedonia Conquers Greece - Fight for your survival against much stronger enemies like Philip II and transform Macedonia, a small kingdom surrounded by rivals, into the ruler of all Greece.
RPG-style intrigue - Play as Queen Olympias, widow of Philip, as she holds the empire together after the king's assassination, and guides young Alexander, or the Great, to assume leadership before his rivals take over. power.
Conquer the ancient world - Lead as Alexander the Great and expand the kingdom of Macedon in campaigns ranging from Tire and Gaza tied to the Battle of the Persian Gate.
The Diadochians - Choose one of Alexander's two generations and build an empire out of the chaos caused after his death, fighting former allies to the rest of the Macedonian kingdom.
System Requirements
Minimum
OS:

Windows

Storage:

10 GB

Processor:

Intel i5-6400 2.7ghz

Memory:

8 GB

Graphics:

NVIDIA GTX 770 / AMD R9 290
Recommended
OS:

Windows

Storage:

14 GB

Processor:

Intel i5-8500 3ghz

Memory:

16 GB

Graphics:

NVIDIA GTX 1060 / AMD RX 5500-XT
Minimum
OS:

High Sierra 10.13

Storage:

10 GB

Processor:

Intel i5, 6th gen, 2.7GHz

Memory:

8 GB

Graphics:

METAL capable GPUs, 2GB VRAM
Recommended
OS:

Mojave 10.14

Storage:

14 GB

Processor:

Intel i5, 8th gen, 3GHz

Memory:

16 GB

Graphics:

METAL capable GPUs, 4GB VRAM
Minimum
OS:

Ubuntu 18.04+

Storage:

10 GB

Processor:

Intel i5-6400 2.7ghz

Memory:

8 GB

Graphics:

NVIDIA GTX 770 / AMD R9 290
Recommended
OS:

Ubuntu 20.04+

Storage:

14 GB

Processor:

Intel i5-8500 3ghz

Memory:

16 GB

Graphics:

NVIDIA GTX 1060 / AMD RX 5500-XT