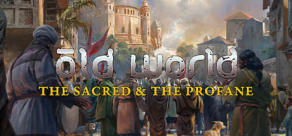 Old World - The Sacred and The Profane
Available Countries
Argentina
Bahamas
Belize
Bolivia
Brazil
Chile
Colombia
Costa Rica
Ecuador
El Salvador
French Guiana
Guatemala
Guyana
Honduras
Nicaragua
Panama
Paraguay
Peru
Suriname
Uruguay
Venezuela
About the game
Old World - The Sacred and the Profane brings a touch of religious fervor to your games with a rich variety of new content that explores how religion impacted the fortunes of ancient empires. Enjoy over 350 new events, recruit new historical characters, and deal with the demands of the clergy as you try to accommodate the diverse faiths within your empire. Be warned, if a religion doesn't approve of your rule, you could end up dealing with dissent, riots, or even worse consequences.

Old World - The Sacred and The Profane includes:
Over 350 New Events - From small rituals and everyday beliefs to the power struggles of official religions and the emergence of world traditions, you must stay alert and stay calm to navigate the complex world of ancient lore.
Clergy Characters - These new characters can join your court and offer their own quests and projects. How much they can benefit you depends on what the religion they practice thinks about you. Existing characters can be introduced to the clergy through a quest available from the leader of the official religion.
Over 10 Character Attributes - The Sacred and The Profane adds a variety of new attributes to characters, including those that are basic, event-related, and unique to clergy characters.
Six new historical characters:
Mani, the founder of Manichaeism
Paulo, an ardent convert to Christianity and one of the first bishops
Josephus, Rebel Jew, General and Scholar
Ostanes, a great user of magic that legends speak of
Sappho, Greek poetess
Hypatia, Alexandrian scientist and philosopher
Mechanics of religious dissent - The negative opinion of a religion can cause dissent in cities that practice it. The consequences can be lasting.
More than 10 new "cult" projects - There are new cult improvements that can be added through events, as well as improvements to existing shrines. Each cult confers a unique and powerful effect.
This DLC pack presents several what-if situations, the "what ifs" of the past, reflecting a time when many religions were young and the world's known empires were forced to grapple with competitions between old and new faiths.
System Requirements
Minimum
OS:

Windows

Storage:

10 GB

Processor:

Intel i5-6400 2.7ghz

Memory:

8 GB

Graphics:

NVIDIA GTX 770 / AMD R9 290
Recommended
OS:

Windows

Storage:

14 GB

Processor:

Intel i5-8500 3ghz

Memory:

16 GB

Graphics:

NVIDIA GTX 1060 / AMD RX 5500-XT
Minimum
OS:

High Sierra 10.13

Storage:

10 GB

Processor:

Intel i5, 6th gen, 2.7GHz

Memory:

8 GB

Graphics:

METAL capable GPUs, 2GB VRAM
Recommended
OS:

Mojave 10.14

Storage:

14 GB

Processor:

Intel i5, 8th gen, 3GHz

Memory:

16 GB

Graphics:

METAL capable GPUs, 4GB VRAM
Minimum
OS:

Ubuntu 18.04+

Storage:

10 GB

Processor:

Intel i5-6400 2.7ghz

Memory:

8 GB

Graphics:

NVIDIA GTX 770 / AMD R9 290
Recommended
OS:

Ubuntu 20.04+

Storage:

14 GB

Processor:

Intel i5-8500 3ghz

Memory:

16 GB

Graphics:

NVIDIA GTX 1060 / AMD RX 5500-XT