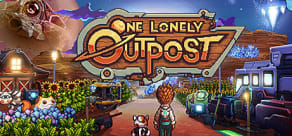 One Lonely Outpost
Available Countries
Antigua & Barbuda
Argentina
Bahamas
Barbados
Belize
Bermuda
Bolivia
Brazil
Chile
Colombia
Costa Rica
Cuba
Dominica
Dominican Republic
Ecuador
El Salvador
Falkland Islands
French Guiana
Grenada
Guatemala
Guyana
Haiti
Honduras
Jamaica
Mexico
Nicaragua
Panama
Paraguay
Peru
Puerto Rico
South Georgia & South Sandwich Islands
St. Kitts & Nevis
St. Lucia
St. Vincent & Grenadines
Suriname
Uruguay
Venezuela
About the game
You are the first pioneer to set foot on the surface of a barren alien world - a desolate expanse as far as the eye can see. Your job is simple: Grab your space motorhome, power up your multifunctional tech gauntlet, and use the seeds found in the cargo to start a new life in this world. Over time, you'll make the planet sustainable for yourself and dozens of future settlers. But until then, it will be a lonely outpost...
Highlights
BOOTSTRAA FOR LIFE:
Plan your colonizing farming adventures. Are you going to explore? Plant? Manufacture? Fishing? Create a united community? Or all at once?
Learn the Omninac to gain experience with life on the new planet. Categorize plants, minerals, seasons of the year, animals and much more!
Terraform the desert with a trusty robotic pet animal. Fertilize alone, protect water sources and make them respirable.
Farm, mine, explore and raise a habitat for humanity.

BUILD A COLONY:
He built his colony from scratch. Your solidity will end when you manage to attract some settlers, but that's just where it starts!
Discover a robust cardápio of snacks to prepare. There is no time to explore a new world on an empty stomach!
An infinity of fish and insects also inhabits the planet. Find them to complete your collection!
CRAFT THE FUTURE:
Start a new dawn for humanity, building a true utopia outside the world for its colonists.
Connect with your newly discovered community, cultivate relationships and, who knows, maybe you'll find love among the pioneers?
And, as important as the future, merge in the past of the old world. Or what is hidden on the surface of this ancient planet...?
System Requirements
Minimum
OS:

Windows 10

Storage:

3 GB

Processor:

Intel i5-4590 equivalent or greater

Memory:

8 GB

Graphics:

NVIDIA GTX 960 or AMD R9 290 or greater

DirectX:

10
Recommended
OS:

Windows 10

Storage:

3 GB

Processor:

Intel i5-7500 equivalent or greater

Memory:

8 GB

Graphics:

NVIDIA GTX 1060 or AMD RX 580 or greater

DirectX:

11