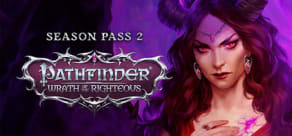 Pathfinder: Wrath of the Righteous - Season Pass 2
Available Countries
Antigua & Barbuda
Argentina
Bahamas
Barbados
Belize
Bermuda
Bolivia
Brazil
Chile
Colombia
Costa Rica
Cuba
Dominica
Dominican Republic
Ecuador
El Salvador
Falkland Islands
French Guiana
Grenada
Guatemala
Guyana
Haiti
Honduras
Jamaica
Mexico
Nicaragua
Panama
Paraguay
Peru
Puerto Rico
South Georgia & South Sandwich Islands
St. Kitts & Nevis
St. Lucia
St. Vincent & Grenadines
Suriname
Uruguay
Venezuela
About the game
Season Pass 2
Embark on new adventures in this follow-up to the first season! New friends and enemies, dangers and rewards await you — both as extensions of the main campaign and as standalone experiences.
Highlights
DLC #4: Here comes a new companion for the Knight Commander's party and a new playable class: the everchanging shifter! Bolster your party with a reliable brawler, capable of taking on the aspects of various wild beasts. Delve into the lost secrets of Old Sarkoris. And who knows? Maybe you will even find new love, one transcending time itself.
DLC #5: This new standalone campaign picks up where the "Through the Ashes" story left off. A new demon lord with hordes of frozen minions is emerging from the depths of the Abyss. With the Knight Commander busy elsewhere, what can a group of regular adventurers with no mythic powers do to save the day? This expansion offers a 6-7 hourlong story which you can play independently or with the hero from your "Through the Ashes" savegame. And when you're done, a whole new dungeon in the main campaign will be open for the Knight Commander to explore.
DLC #6: During your first visit to Kenabres, things did not go well. Now that the demonic assault has been thwarted, and the crusaders are preparing their final counterattack, why not take a little break? Kenabres, burned and rebuilt, is holding a new festival, and the Knight Commander will be the guest of honor. This is your chance to spend some quality time away from the battlefields together with your companions – and, perhaps, go on a special date with your loved one. Be careful, though: the war isn't over yet, and even the new, peaceful Kenabres might be hiding its share of secrets...
System Requirements
Minimum
OS:

Windows 7

Storage:

50 GB

Processor:

Intel(R) Core(TM) i3-2310M CPU @ 2.10GHz

Memory:

6 GB

Graphics:

NVIDIA GeForce 940M
Recommended
OS:

Windows 10

Storage:

50 GB

Processor:

Intel Core i7 CPU 920 @ 2.67GHz

Memory:

8 GB

Graphics:

NVIDIA GeForce GTX 1050 Ti