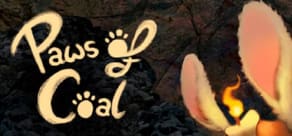 Paws of Coal
Available Countries
Antigua & Barbuda
Argentina
Bahamas
Barbados
Belize
Bermuda
Bolivia
Brazil
Chile
Colombia
Costa Rica
Cuba
Dominica
Dominican Republic
Ecuador
El Salvador
Falkland Islands
French Guiana
Grenada
Guatemala
Guyana
Haiti
Honduras
Jamaica
Mexico
Nicaragua
Panama
Paraguay
Peru
Puerto Rico
South Georgia & South Sandwich Islands
St. Kitts & Nevis
St. Lucia
St. Vincent & Grenadines
Suriname
Uruguay
Venezuela
About the game
Paws of Coal is a cozy, slow-paced detective adventure with gameplay influenced by the scientific method – quests are solved by connecting evidence. If you get it right, the mystery is solved. If you get it wrong, everyone could be in danger. So, tread carefully.
Highlights
The outbreak - In the game, you play as Charles, a scholar on a mission sent by His Majesty (the lion king Lav) to help the critters of The Burrows where the outbreak is on the rise. Is it dangerous, or just a mere nuisance? It is up to Charles to find out what is going on. But there would be problems on his path, both scientific and social.
The Burrows is a mining town, and miners are on a strike - There is no cure for the outbreak, and productivity is suffering. The miners won't tolerate the current scenario and are on strike. The problem? The foreman of The Burrows isn't having any of it and wants to shut down the strike. Unless Charles finds a creative solution.
A detective adventure with multiple endings - Paws of Coal is a short, stand-alone game set in the larger Trip the Ark Fantastic universe that is currently in development in Gamechuck. Paws of Coal offers around 3 to 4 hours of gameplay (depending on your play style), and even multiple endings. The investigation is solved by talking to each resident of The Burrows, finding the clues in the environment, making a lot of notes, and connecting the dots (literally) using the interface in Charles' journal. When you're sure you got it right - submit the report, and... hope for the best. Good luck!
System Requirements
Minimum
OS:

Windows 10/ 11

Storage:

2 GB

Processor:

Intel Core i3 / AMD Ryzen 3

Memory:

8 GB

Graphics:

NVIDIA GTX 970 / AMD RX 580 or similar

Soundcard:

Default system

DirectX:

11
Recommended
OS:

Windows 10/ 11

Storage:

2 GB

Processor:

Intel Core i5 / AMD Ryzen 5

Memory:

8 GB

Graphics:

NVIDIA GTX 970 / AMD RX 580 or similar

Soundcard:

Default system

DirectX:

11