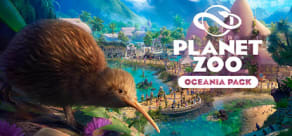 Planet Zoo: Oceania Pack
Available Countries
Antigua & Barbuda
Argentina
Bahamas
Barbados
Belize
Bermuda
Bolivia
Brazil
Chile
Colombia
Costa Rica
Cuba
Dominica
Dominican Republic
Ecuador
El Salvador
Falkland Islands
French Guiana
Grenada
Guatemala
Guyana
Haiti
Honduras
Jamaica
Mexico
Nicaragua
Panama
Paraguay
Peru
Puerto Rico
South Georgia & South Sandwich Islands
St. Kitts & Nevis
St. Lucia
St. Vincent & Grenadines
Suriname
Uruguay
Venezuela
About the game
All aboard, let's set sail for Planet Zoo: Oceania Package! Explore breathtaking archipelagos and immerse yourself in the beauty and culture of the continent's sun-kissed Pacific islands. The pack features five unique animals found on sandy beaches or in lush forests, as well as more than 200 new environmental items inspired by Polynesian traditions. Test your zoo management skills with a new scenario focused on wildlife conservation on a radiant island paradise.
Highlights
FIVE MEMORABLE ANIMALS - Meet wonderful new animals from the coast of Oceania: the northern kiwi, the Tasmanian devil, the blue penguin, the quokka and the spectacled flying fox. Watch the little Northern Kiwi cautiously forage for food and explore his new zoo home, hear the impressive howl of the noisy Tasmanian Devil as he roams and fights in his own habitat, marvel at colonies of hundreds of blue penguins pacing back and forth and resting on their bellies, come face to face with the quokka's friendly smile and look up to see the majestic spectacled flying fox flying and exploring the walkable terrarium.
MORE THAN 200 BOLD ENVIRONMENTAL ITEMS - Expand your menagerie with an even wider range of beautiful Oceanian-influenced ambiance items. With a focus on natural raw materials such as dried leaves, wood, fibers and weaves, as well as intricately carved wooden ornaments and colorful floral adornments, their authentic beauty is highlighted by the region's vivid colors. Add a fun touch to the landscape with carved Tiki ornaments, which have various expressions and are also customizable! This happy face can wear a foliage crown, a vibrant necklace, or serve as a torch to light up your zoo at night. In addition to these fun pieces, discover the impressive artificial lava that glows in the dark and new flora, especially the unique palm tree and the giant fern, which will amaze visitors. All these fabulous additions will help you create the most idyllic zoo for your animals and your visitors to enjoy.
AN EXCITING CAMPAIGN SCENARIO - See familiar faces again! Meet Bernie Goodwin and his daughter and take a risk in the new campaign setting, set on the paradise island that is the Goodwin Family Nature Reserve. Emma got in touch with plans for a new, more personal zoo project, which she came up with her father. Will Bernie give up control while you help Emma build the zoo from scratch? Will you be able to contribute to this family project?
System Requirements
Minimum
OS:

Windows 7 (SP1+)/8.1/10 64bit

Storage:

16 GB

Processor:

Intel i5-2500 / AMD FX-6350

Memory:

8 GB

Graphics:

NVIDIA GeForce GTX 770 (2GB) / AMD Radeon R9 270X (2GB)
Recommended
OS:

Windows 10 64bit

Storage:

16 GB

Processor:

Intel i7-4770k / AMD Ryzen 5 1600

Memory:

16 GB

Graphics:

NVIDIA GeForce GTX 1070 (8GB) or AMD Radeon RX 580 (8GB)