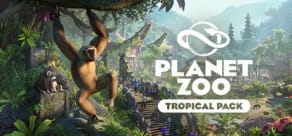 Planet Zoo: Tropical Pack
Available Countries
Antigua & Barbuda
Argentina
Bahamas
Barbados
Belize
Bermuda
Bolivia
Brazil
Chile
Colombia
Costa Rica
Cuba
Dominica
Dominican Republic
Ecuador
El Salvador
Falkland Islands
French Guiana
Grenada
Guatemala
Guyana
Haiti
Honduras
Jamaica
Mexico
Nicaragua
Panama
Paraguay
Peru
Puerto Rico
South Georgia & South Sandwich Islands
St. Kitts & Nevis
St. Lucia
St. Vincent & Grenadines
Suriname
Uruguay
Venezuela
About the game
Welcome to the Planet Zoo: Tropical Pack! Adopt and care for five amazing new animals found in rainforests around the world, including Africa, Southeast Asia and South America. Some of these species live in treetops, others on fertile riverbanks, but all have evolved to thrive remarkably in jungle biomes. Plus, expand your dream zoo even further with over 200 new setting pieces that celebrate the beauty of traditional Indonesian architecture and enjoy a thrilling backdrop amidst lush Indonesian campaign scenery.
Highlights
5 NEW ANIMALS - Welcome the fossa, the white-handed gibbon, the African red pig, the Malay varano and the sloth, which is in the terrarium! Peel through the green foliage and discover what makes these fabulous tropical species so stunning. Hear the cries of the white-handed gibbon echo across the zoo, watch the Malayan Varangian display its unrivaled deep-water swimming ability, watch the African Red Hog rolling happily in the mud, get the rare opportunity to closely monitor the fossa, the silent top predator of Madagascar, and invite visitors to marvel at the impediment and slow sloth, which roams the walkable terrarium without any hurry.
OVER 200 NEW SETTING ITEMS - Expand your zoo with a huge range of beautiful setting pieces that pay homage to Southeast Asian architecture and traditions. Build temples on Balinese-style planes that form stunning silhouettes against the backdrop of jungle foliage. Build peaceful tongkonan-inspired villages and assemble symbolic animal statues made up of multiple pieces. In addition to a beautiful variety of elements such as tables, benches, umbrellas and curtains, it also contains the exotic vegetation of Southeast Asia, where rafflesia, Attenborough nepenthes, drynaria and sinuous modular vines come from. climbed by some animals! Add these beautiful pieces and elements to your existing menagerie or use them to create a tropical paradise from scratch.
NEW CAMPAIGN SETTING - Face the challenge of a new campaign setting set in Bali, Indonesia, amid spectacular scenery. Team up once again with Tiffany, the well-heeled socialite with ambitions far greater than animal care skills, and lend a hand at the tropical zoo she just received as a gift from her father. Just watch out for the mysterious figure from the past who makes a surprise appearance! Take ownership of the zoo, care for a wonderful array of animals and see if you can elicit praise as the local climate wreaks a sweat. The temperature can be scorching, but keeping a cool head is essential to succeed.
System Requirements
Minimum
OS:

Windows 7 (SP1+) / 8.1/10 [64bit]

Storage:

16 GB

Processor:

Intel i5-2500 / AMD FX-6350

Memory:

8 GB

Graphics:

NVIDIA GeForce GTX 770 (2GB) / AMD Radeon R9 270X (2GB)
Recommended
OS:

Windows 10 [64bit]

Storage:

16 GB

Processor:

Intel i7-4770k / AMD Ryzen 5 1600

Memory:

16 GB

Graphics:

NVIDIA GeForce GTX 1070 (8GB) / AMD Radeon RX 580 (8GB)