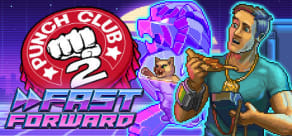 Punch Club 2: Fast Forward
Available Countries
Antigua & Barbuda
Argentina
Bahamas
Barbados
Belize
Bermuda
Bolivia
Brazil
Chile
Colombia
Costa Rica
Cuba
Dominica
Dominican Republic
Ecuador
El Salvador
Falkland Islands
French Guiana
Grenada
Guatemala
Guyana
Haiti
Honduras
Jamaica
Mexico
Nicaragua
Panama
Paraguay
Peru
Puerto Rico
South Georgia & South Sandwich Islands
St. Kitts & Nevis
St. Lucia
St. Vincent & Grenadines
Suriname
Uruguay
Venezuela
About the game
You spent 20 long years living in the tight confines of your overbearing mother's garage, and your father mysteriously disappeared before you were born. At least you've had plenty of time to work out and dream about the wonders of the world. Anyway, it sucks to be you: people eat mud, corruption runs rampant, and everyone wants to fight you... Anyway, maybe you can find your father and become the "dark fist" of rumors... somehow way you could be the savior of mankind, who will reveal the super secret secrets of the Good Corporation... or not. Choose your own adventure or stay in the garage if you like.
Highlights
CHOOSE YOUR OWN ADVENTURE - It's been 20 long years since some unknown guy came out of the streets, punched the bad guy, found his dad and everyone was happy and stuff. Welcome to the future. Corruption rolls around, shells have replaced toilet paper, and everything is cyberpunk now. Walk through the same streets, but now with neon, while playing in an adventure full of playfulness, 80's nostalgia and punches. Much more punches than before.
BECOME A CHAMPION FIGHTER - Punch, kick and cheat your way if you like. Being the best fighter is no cakewalk, it takes time, dedication, dollars and training! Increase your attributes and techniques, plan your fight and create your own amazing fighting school! Sounds better than losing and having everyone make fun of you. While nothing beats good old-fashioned blood, sweat and tears, neural training and illegal software sounds pretty tempting. Even if there is a minimal risk of being exposed as a fraud, and your last neuron packs up and leaves.
MANAGE... EVERYTHING - The life of those who run is hectic, busy and requires efficient management so as not to get carried away. With Punch Club 2 it's the same thing! It's literally a simulation game! Manage your time and money as you try to climb the fighting leagues, solve crimes, work for the police, crime, mafia and anyone else who crosses your path. Complete missions to gain access to new fight schools, moves, dollars, good guy points and even Lion Queen on VHS! Stop reading the Steam page and go to work!
System Requirements
Minimum
OS:

Windows 7/8/10/11 (64-bit OS required)

Storage:

2 GB

Processor:

Intel Core i3-7100, AMD Ryzen 5 16

Memory:

4 GB

Graphics:

GeForce GT 1030 / AMD Radeon R7 240 / equivalent

DirectX:

11
Recommended
OS:

Windows 7/8/10/11 (64-bit OS required)

Storage:

2 GB

Processor:

Intel Core i5-8400 и AMD Ryzen 5 2600

Memory:

8 GB

Graphics:

GeForce GTX 1650 GP/ AMD Radeon RX 6500 or equivalent

DirectX:

11