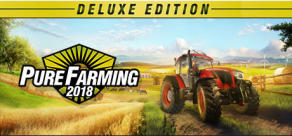 Pure Farming 2018 - Deluxe Edition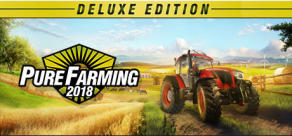 Pure Farming 2018 - Deluxe Edition
About the game
FARMING GOES GLOBAL!
Experience the global reality of modern agriculture in all its aspects with Pure Farming 2018: Digital Deluxe Edition. Get access to three additional highly specialized machines and receive 4 special outfits for your character in the game. Have global reach and expand your agricultural empire across four continents!
Highlights
All-In-One - Try your hand at almost every imaginable aspect of modern farming, such as animal husbandry, orchards, greenhouses, field cultivation, green energy and more.
100% Licensed Machines - Drive faithfully recreated farming vehicles from such industry leaders as Zetor, Landini, McCormick, Gregoire, DAF, Mitsubishi, and many more. Reproduced down to the smallest detail, including their weight and physics, the machines will offer a realistic, in-depth experience of running a modern farm.
Global Farming – Travel between your farms located in Italy, Colombia, Japan and Montana, USA. Grow unique region-specific crops and use dedicated machines never before seen in farming simulators, including the rice planter, hemp harvester and more.
Farming For Everyone – Three different games modes for different playstyles. Enjoy the freedom and challenge of running your own farm in Free Farming, learn the ins and outs of agriculture in My First Farm, or test your farming skills in objective-focused Farming Challenges.
Nature Is Beautiful  – Admire the breath-taking landscapes of four continents and enjoy realistic, high-quality graphics.
Bonus content
Purchasing Pure Farming 2018 - Deluxe Edition you receive the following exclusive content:
Map of Germany;
Landini Rex F;
Lindner Geotrac 134ep;
Gomselmash Palesse CS-200;
Special Package of Suits.
System Requirements
Minimum
OS:

Windows 10,8,7 (64 bit)

Storage:

12 GB

Processor:

Intel Core I5 2,3 GHZ

Memory:

4 GB

Graphics:

Geforce 560 GTX 2 GB

DirectX:

11
Recommended
OS:

Windows 10,8

Storage:

12 GB

Processor:

Intel Core I7, 3,0 GHZ

Memory:

8 GB

Graphics:

Geforce GTX 970 4 GB

DirectX:

11