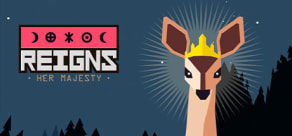 Reigns: Her Majesty
Available Countries
Antigua & Barbuda
Argentina
Bahamas
Barbados
Belize
Bermuda
Bolivia
Brazil
Chile
Colombia
Costa Rica
Cuba
Dominica
Dominican Republic
Ecuador
El Salvador
Falkland Islands
French Guiana
Grenada
Guatemala
Guyana
Haiti
Honduras
Jamaica
Mexico
Nicaragua
Panama
Paraguay
Peru
Puerto Rico
South Georgia & South Sandwich Islands
St. Kitts & Nevis
St. Lucia
St. Vincent & Grenadines
Suriname
Uruguay
Venezuela
About the game
Reigns: Her Majesty is the revolutionary sequel to Reigns, the "swipe 'em up" hit where you swipe to make decisions. The world lives in a cultural renaissance; a new age of knowledge and enlightenment, but ambition and envy still conspire against the benevolent queen. Swipe left or right to make fair (or unfair) decisions in a variety of royal matters, surviving and outlasting those who seek to oust you and your husband from the throne. Keep the balance between the kingdom's most powerful factions, use mystical items from your inventory, and manage your dynasty's increasingly complex political and personal relationships.
Highlights
New Kingdom, New Drama - Your royal decrees and the unpredictable requests of the people will shape your reign and the future of your dynasty. Carefully manage the silliest political and emotional pleadings of your eccentric subjects to maintain balance between the kingdom's most powerful factions.
Mystical Inventory - Find and upgrade five special items in a new inventory system. Use your special items on character cards and unlock special paths in your kingdom's increasingly complex narrative.
Real challenges -  Each new monarch must complete specific objectives to unlock new sets of cards and new directions for the history of their dynasty.
Nerial and friends -  Reigns: Her Majesty is a product of the collaboration between François Alliot (design/programming), Arnaud de Bock (art), Jim Guthrie (music) and Leigh Alexander (narrative director).