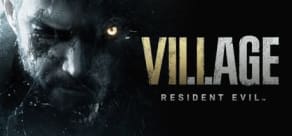 Resident Evil Village
About the game
Experience survival horror like never before in the eighth major installment in the storied Resident Evil franchise - Resident Evil Village.
Set a few years after the horrifying events in the critically acclaimed Resident Evil 7 biohazard, the all-new storyline begins with Ethan Winters and his wife Mia living peacefully in a new location, free from their past nightmares. Just as they are building their new life together, tragedy befalls them once again.

REVIEWS
"Resident Evil: Village promises a first-person experience that presents itself as a sequel to Resident Evil 7 and, at the same time, presents fans of the first games in the series with several assimilable elements and references" – Clube do Videogame

"One of the game's biggest strengths is the design of the world in general. Resident Evil Village represents unrivaled set construction and art direction. Fog effects, general lighting, light ray strokes mixed with shadows and multiple scenarios and environments bring a narrative realism that deserves a standing ovation" - Acesso Geek

"Resident Evil Village is far from just a re-creation of the series' seventh numbered game with a new story. Flirting with elements of psychological horror and providing even more freedom to the player, the series appears to be heading in an unprecedented course extremely promising. In case you're wondering, I'd rather go ahead with the conclusion of this text: yes, it's worth investing as much time as possible in Capcom's new title." - IGN Brasil
Highlights
This pack includes the following content:
Resident Evil Village
Resident Evil Re:Verse
Details of the operational period for Resident Evil Re:Verse, including commencement of availability and any potential announcements relating to the end of service, can be found on the official website:
https://www.residentevil.com/reverse/
Please note that, depending on the timing of your purchase of Resident Evil Village, Resident Evil Re:Verse may already no longer be available, and/or the title may become available through other means in the future.
System Requirements
Minimum
OS:

Windows 10 64 bit

Processor:

AMD Ryzen 3 1200 / Intel Core i5-7500

Memory:

8 GB

Graphics:

MD Radeon RX 560 4GB VRAM / NVIDIA GeForce GTX 1050 Ti 4GB VRAM

DirectX:

12
Recommended
OS:

Windows 10 64 bit

Processor:

AMD Ryzen 5 3600 / Intel Core i7 8700

Memory:

16 GB

Graphics:

AMD Radeon RX 5700 / NVIDIA GeForce GTX 1070

DirectX:

12