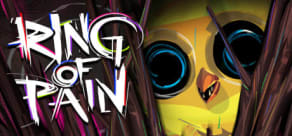 Ring of Pain
Available Countries
Antigua & Barbuda
Argentina
Bahamas
Barbados
Belize
Bermuda
Bolivia
Brazil
Chile
Colombia
Costa Rica
Dominica
Dominican Republic
Ecuador
El Salvador
Falkland Islands
French Guiana
Grenada
Guatemala
Guyana
Haiti
Honduras
Jamaica
Mexico
Nicaragua
Panama
Paraguay
Peru
Puerto Rico
South Georgia & South Sandwich Islands
St. Kitts & Nevis
St. Lucia
St. Vincent & Grenadines
Suriname
Uruguay
Venezuela
About the game
In the depths of the Ring of Pain, you will discover new paths that lead to the unknown. Places with new friends, powerful spoils and enigmatic rhymes. Encounter pleasant challenges and howling monsters you'd better not mess with. The brave may be rewarded for taking a chance... or destroyed by ambition.
Plunge into the rings of randomly generated dungeons, in which dangers come your way! Watch and plan your itinerary. Will you take the spoils or stab a creeping terror? The ring reacts to your actions as you retrieve items, fight, and sneak off to make new encounters. Play at your own speed in this challenging turn-based roguelike. Just be careful where you step: You could end up being ambushed, or worse...
Watch the results of your choices to focus on the important part: the decisions! The creatures launch your actions into a hostile world, ready to explode. Will you flee or will you look for a way to use the dungeon against itself? Positioning is essential for survival. You can be quickly overwhelmed... Watch the ring and think strategically. Learn, adapt, or fail.
Copycats offer choice for a price. Take all you can get and build a combination of equipment with passive powers. Maybe you fight fast and dodge well, using a poison-filled sword. Or maybe you are a colossal lout, or a flaming machine of destruction with an affinity for explosions. Gain power by making acquisitions, or adapt with whatever you find in these unforgiving depths.
Highlights
16 Core path dungeons plus 2 branching endings to test your final build.
Medium and Hard modes to unlock for those who thrive on pain.
A Daily Dungeon mode to unlock with 40+ puzzling modifiers.
25+ Special dungeons to detour through, filled with loot and strange encounters.
4 Environment regions with their own flavour of terror.
280+ items to unlock and combine in a 15 slot inventory.
50+ Creatures to learn and adapt to. Some friendly, some fierce...
Responsive turn-based mechanics so you can play swiftly or strategically.
Cryptic, poetic lore delivered in bite sized rhymes.
A raw graphic art style inspired by Aphantasia.
Cute frog friends.
Pain and suffering.