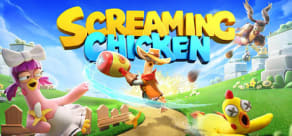 Screaming Chicken: Ultimate Showdown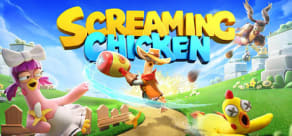 Screaming Chicken: Ultimate Showdown
About the game
Screaming Chicken: Ultimate Showdown is an insane multiplayer game in which you have to show who's putting order in the chicken coop! Choose a weapon. It's time to show daring chicken trials who is the real supreme champion!
Highlights
Chaotic multiplayer -  Chickens are party birds, just like us! Choose your preferred game mode:
- Team up with another chicken in 2v2 mode and make your opponents scream in terror!
-Only one chicken can be the big winner! Defeat all opponents and prove you're the alpha chicken in PvP free-for-all mode!
-The world awaits your triumph! Take part in battles against chickens from all corners of the world with the automatic pairing system!
Use physics, skills and weapons - Got a bomb on you? No problem! Just hug someone. Did you wake up with the shovel upside down? Then grab another chicken by the throat and throw it in the lava to boil! Want to enjoy nature? Then feed a carnivorous plant another chicken! Or attach an ice bomb and turn on the fan. The most ice slide across the map! Have a lightsaber duel or find boxing gloves and show who owns the chicken coop! If you're lucky, you might even find a terminator robot capable of destroying the entire map, including your rivals! Take advantage of over 40 different weapons to put your craziest ideas into practice and face opponents however you want! Make them scream. Turn your enemies into chicken!
Crush! Destroy! A tire! - Use the terrain to your advantage against other unsuspecting birds. The entire map is destructible, which creates tons of opportunities! Create holes, knock down walls, shoot sounds and throw other chickens into the abyss! Have a good time! But be careful: don't fall into the trap you created yourself!
Coconut! I customize! - Want to turn into a Cthulhu chicken with a pie? Or maybe a ninja chicken that shoots cacti instead of shurikens? Your wish is an order! Customize your painful one, choose a pump and let your personality take over! But don't forget that some paths must be conquered. You'll have to pluck and roast a lot of chicken to get them. Become whoever you want and don't forget to choose your favorite dance! Move your body and release that chicken!
Show your creativity! - Have you seen all 130 levels and know them like the back of your hand? So have fun with the Steam Workshop level editor! An easy and intuitive interface for you to create unique maps and organize combats in your territory and with your rules! Legend has it that the most talented building chickens can even win prizes...
System Requirements
Minimum
OS:

Windows 7

Storage:

3 GB

Processor:

2.0GHZ

Memory:

4 GB

Graphics:

AMD RX 570 or Nvidia GTX 1050 Ti

DirectX:

9.0
Recommended
OS:

Windows 11

Storage:

3 GB

Processor:

Core i5 or better

Memory:

8 GB

Graphics:

NVIDIA GeForce GTX1050 Ti or higher