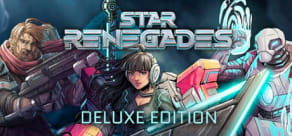 Star Renegades - Deluxe Edition
Available Countries
Argentina
Bahamas
Belize
Bolivia
Brazil
Chile
Colombia
Costa Rica
Ecuador
El Salvador
French Guiana
Guatemala
Guyana
Honduras
Nicaragua
Panama
Paraguay
Peru
Suriname
Uruguay
Venezuela
About the game
Star Renegades - Deluxe Edition includes:
Base game;

The Art and Illustrations of Star Renegades;

Star Renegades Original Soundtrack;
THE GAME:
A service robot named J5T-1N has arrived in your dimension to warn of impending doom from an overwhelming force known as the Imperium.
Fight for survival across a procedurally generated and emergent mission-based campaign through reactive, tactical turn-based battle system that emphasizes interrupts and counters. Standing in your way is an intelligent Adversary system with enemy officers that evolve and move up in the ranks.
As your band of heroes fall in the fight against invading Imperium and hope is all but lost, J5T-1N must be sent to the next dimension with everything you've learned to give the next group of heroes a chance to prevail. Each dimension, and each playthrough is unique, challenging, and never the same.
Highlights
Star Renegades, a dimension spanning rogue-lite strategy RPG. Outsmart uniquely generated adversaries, forge bonds between heroes and end the cycle!
The Star Renegades original OST - With songs created by Canadian composer, Steve London of Halcyon 6 soundtrack fame, this is one OST that slaps! Whether you need a soundtrack for your work week or something to pump you up to take on a mechanical empire, the Star Renegades OST is full of fast-paced and mood-setting beats.
A digital copy of The Art and Illustrations of Star Renegades with designs from the prolific pixel-artist Bryan Heemskerk, Lead Artist of Star Renegades. This downloadable book contains 100 full-colour pages that take you on a journey from initial concept sketches to final pixel-perfection.
System Requirements
Minimum
OS:

Windows 7+

Storage:

5 GB

Processor:

Intel® Core™ i3-3220T @ 2.80GHz / AMD Phenom II X4 820 @ 2.8 GHz

Memory:

4 GB

Graphics:

NVIDIA® GeForce® GTX 750(2GB VRAM) / AMD Radeon™ Pro 460 (2GB VRAM)

DirectX:

11
Recommended
OS:

Windows 10 64-bit

Storage:

5 GB

Processor:

Intel® Core™ i5-6600K @ 3.5GHz / AMD Ryzen™ 3 2200G @ 3.5GHz

Memory:

8 GB

Graphics:

NVIDIA® GeForce® GTX 960(4GB VRAM) / AMD Radeon™ Pro 570 (4GB VRAM)

DirectX:

11